Atheer AiR
Jump to navigation
Jump to search
The Atheer Augmented interactive Reality (AiR) platform consists of Atheer AiR Smart Glasses and Atheer AiR OS. The glasses have see-through 3D stereo displays that show content in 3D, but allow the interaction in both 2D and 3D. The depth sensor allows gestural navigation of displayed content. The glasses are connected by a cable to an external wallet-size box that houses battery and processor, making the glasses lightweight and comfortable to wear. The box also has HDMI and USB ports, and audio analogue output. The device is compatible with Android applications. It can also be used to remotely navigate and control other devices via WiFi connection.[4]
Main Characteristics
The device connects to an Android smartphone via Micro-USB cable and uses the phone for processing power and WiFi and Bluetooth connectivity. It has a 3D stereo see-through display with 1024x768 resolution per eye and 65 degrees field of view (stereo). Two 8Mp cameras are embedded in the device along with the sensors, which include gyroscope, accelerometer, compass, proximity sensor, capacitive touch, and ambient light sensor.[5] Further technical specifications are unavailable for the AiR Smart Glasses.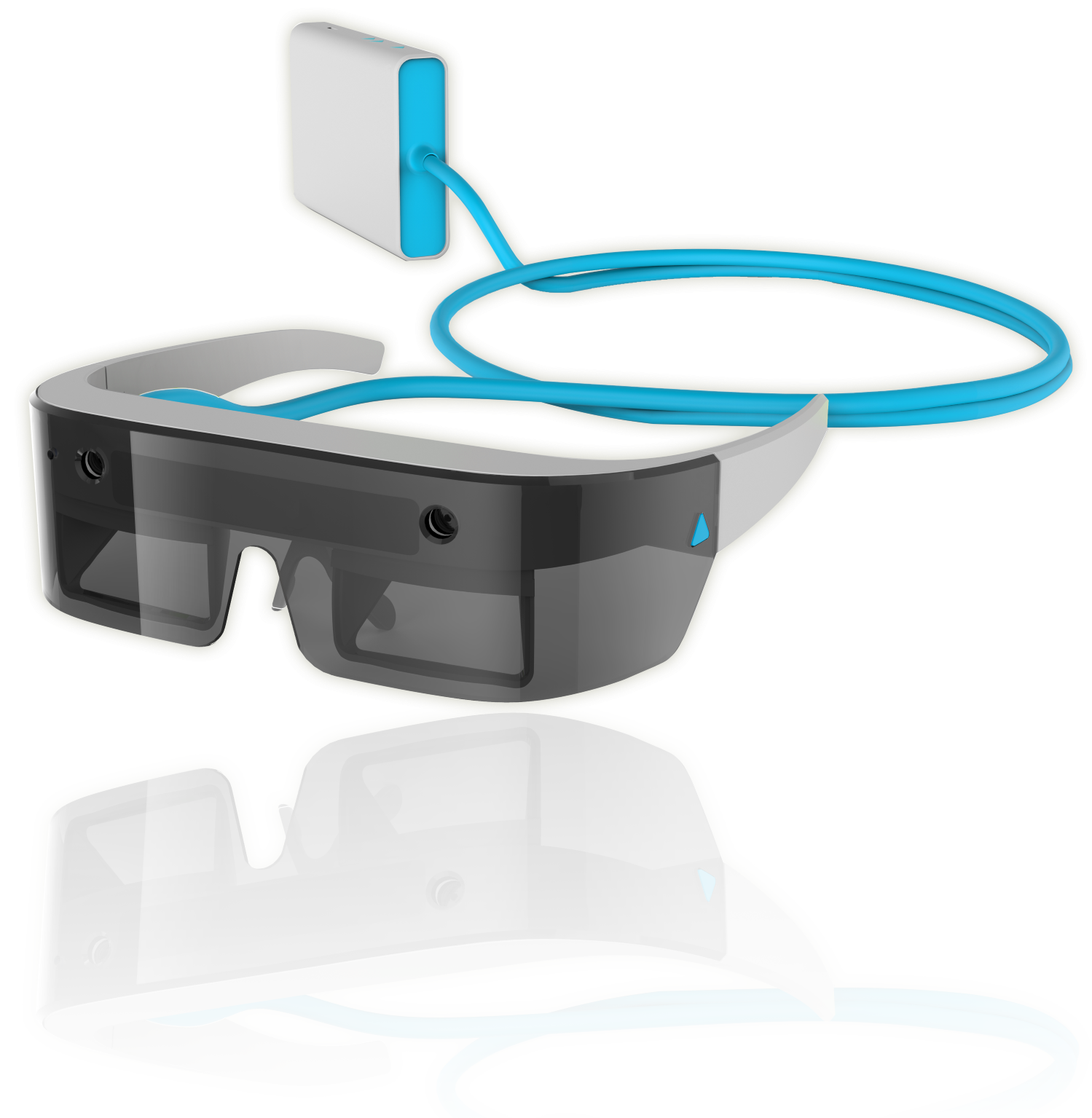 Purpose
Business and enterprise: field service and construction, healthcare, warehousing, logistics, and oil and gas.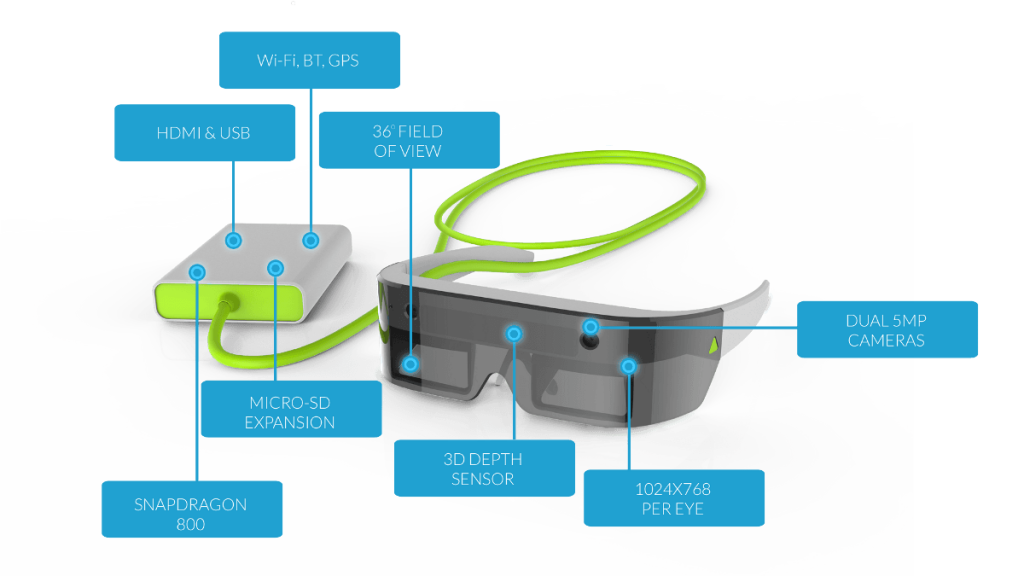 Company & People
Atheer Labs was founded in 2011. It is located in Mountain View, California, US. The specialities of Atheer Labs are Wearables, Smart Glasses, Gesture Detection, Augmented Reality, 3D Android, and Visual Ergonomics.
Management team: Alberto Torres, CEO; Soulaiman Itani, Founder and CTO; Ketan Joshi, VP of Marketing; Mario Kosmiskas, VP of Software; Vishal Shah, VP of Business Development.
Board: Bobby Yazdani, Executive Chairman; Noosheen Hashemi, Board Member; Ullas Naik, Board Member; Alberto Torres, CEO, Soulaiman Itani, Founder and CTO.
Fellows and Advisors: Allen Yang, Fellow; Sina Fateh, Fellow; Andrew Malcolm, Advisor.[6]
Important Dates
Atheer AiR was showcased at CES 2015;[7] Atheer AiR DK2 has been available for pre-order since, via the company's website.[8] Previous version called Atheer Developer Kit and Atheer One Smart Glasses, unveiled at D11 Conference in 2013;[9] available for consumers since December 2014.[10]
Ethical Issues & Health Risks
There has been no issues noted with Atheer AiR so far. However, some general issues connected to Smartglasses in general still apply.
Enhancement/Therapy/Treatment
Enhancement. - The device is marketed for the industrial, business, and medical sectors. It is supposed to increase the productivity of a given workplace by bringing in information relevant to the task (e.g. correct repair procedure, medical records) and display it automatically and hands-free.
Public & Media Impact and Presentation
The launch of Atheer smart glasses received highly praised reviews for its truly augmented reality interface and promising natural gestural interaction with digital content overlaid on the world around the wearer.[11][12] The company's IndieGoGo successful crowdfunding campaign raised 213,917 USD of 100.000 USD goal.[5]
However, in June 2014, the company decided to departure from consumer market and focus only on enterprise.[13] In an official announcement, they stated that, "While we had initially hoped to offer our products to both enterprise and consumer markets from the start, as a startup with limited resources, we have made the difficult decision to work exclusively with our enterprise customers for the time being. This means that we will not be able to support individual Indiegogo backers and will be issuing refunds for all the Atheer Developer Kit and Atheer One contributions."[14] This caused great deal of disappointment among early adopters, but the company understands that the prototypes are still far from miniaturized and slicker versions that will meet the needs of consumer market.
At CES 2015, Atheer won Compass Intelligence 'Enterprise Product Innovation of the Year' Award.[15]
Public Policy
There is no legislation concerning the device at the moment. However, some policies regarding Smartglasses may apply.
Related Scientific Research
References