Difference between revisions of "HTC Vive"
Jump to navigation
Jump to search
(a quote)

Line 22:
Line 22:
 

field_of_view_commentary=degrees horizontal<ref name="techradar review">http://www.techradar.com/reviews/wearables/htc-vive-1286775/review. (Retrieved 1st August, 2016)</ref>|

 

field_of_view_commentary=degrees horizontal<ref name="techradar review">http://www.techradar.com/reviews/wearables/htc-vive-1286775/review. (Retrieved 1st August, 2016)</ref>|

 

weight=555|

 

weight=555|

−

weight_commentary=<ref>http://www.techradar.com/news/wearables/htc-vive-vs-oculus-rift-1301375 (Retrieved 1st August, 2016)</ref>|

+

weight_commentary=<ref>http://www.techradar.com/news/wearables/htc-vive-vs-oculus-rift-1301375 (Retrieved August, 2016)</ref>|

 

controls1=inertial|

 

controls1=inertial|

 

controls2=position|

 

controls2=position|
---
Revision as of 15:46, 22 August 2016
The HTC Vive is a virtual reality device, which was developed by HTC and Valve. It is a wearable device and belongs to the head mounted displays' category. It was shipped as the first virtual reality device that allows the user to directly act and physically move in the virtual reality thanks to its position tracking system.[7] The user interacts with the virtual reality by the headset, controllers and the base station sensors. The whole system has to be linked to a considerably powerful computer to achieve smooth image rendering.[8] The safety of the users is secured by the Chaperone system. The system displays the real surrounding when needed and warns the users if they approach too close to an obstacle so as to prevent injury.[9]
The HTC Vive was primarily created as an entertainment device, but its developer has ambitions to educate and enhance the abilities of its users.[7] The use of HTC Vive in business[10] or therapy[11] was taken into account at present. There are also great expectations that virtual reality devices as the HTC Vive could bring a new approach to the visualisation of scientific models.[12] The wide range of its usage is mirrored in the further partners of the project which are e.g. Google, Lionsgate, HBO[8] or BMW[10].
Main Characteristics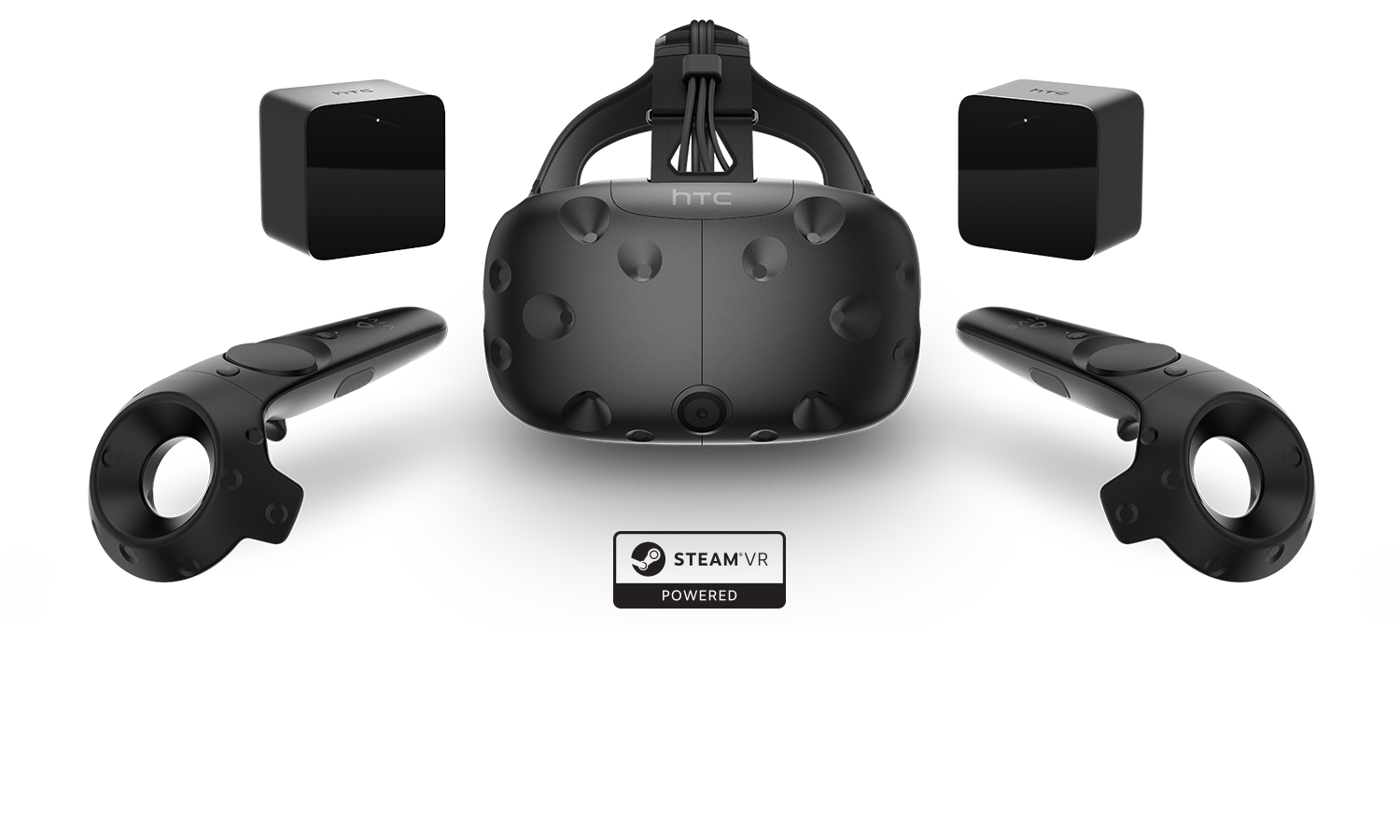 The HTC Vive is fully enclosed but it needs to be connected to a personal computer, hence it is not a standalone device. It has total resolution of 2160 x 1200 pixels and, on the contrary to other headsets, it has an aspect ratio 9:5. The refresh rate of images is 90Hz[8] and the field of view is approximately 110°. The HTC Vive consists of a head mounted display, two controllers, two base station sensors, ear buds and it is shipped with copies of the video games Fantastic Contraption, Job Simulator and 3D painting tool Tilt Brush. The headset is made from black plastic with 32 sensors placed on its surface.[4] The sensors are located into various directions in order to enable a precise tracking of user's movements.[2] In the middle of the headset is a frontal camera which is a part of the Chaperone system.[8] The optics of the headset is mediated by two Fresnel lenses, which are considerably lighter than standard lenses.[13] The headset fits all shapes of face and glasses can be worn in it since the specific settings are adjusted by a foam lining. Headphones are not a part of the headset. Users could use theirs or they could use ear buds which are shipped with the headset. The headset is linked with user's computer by cables.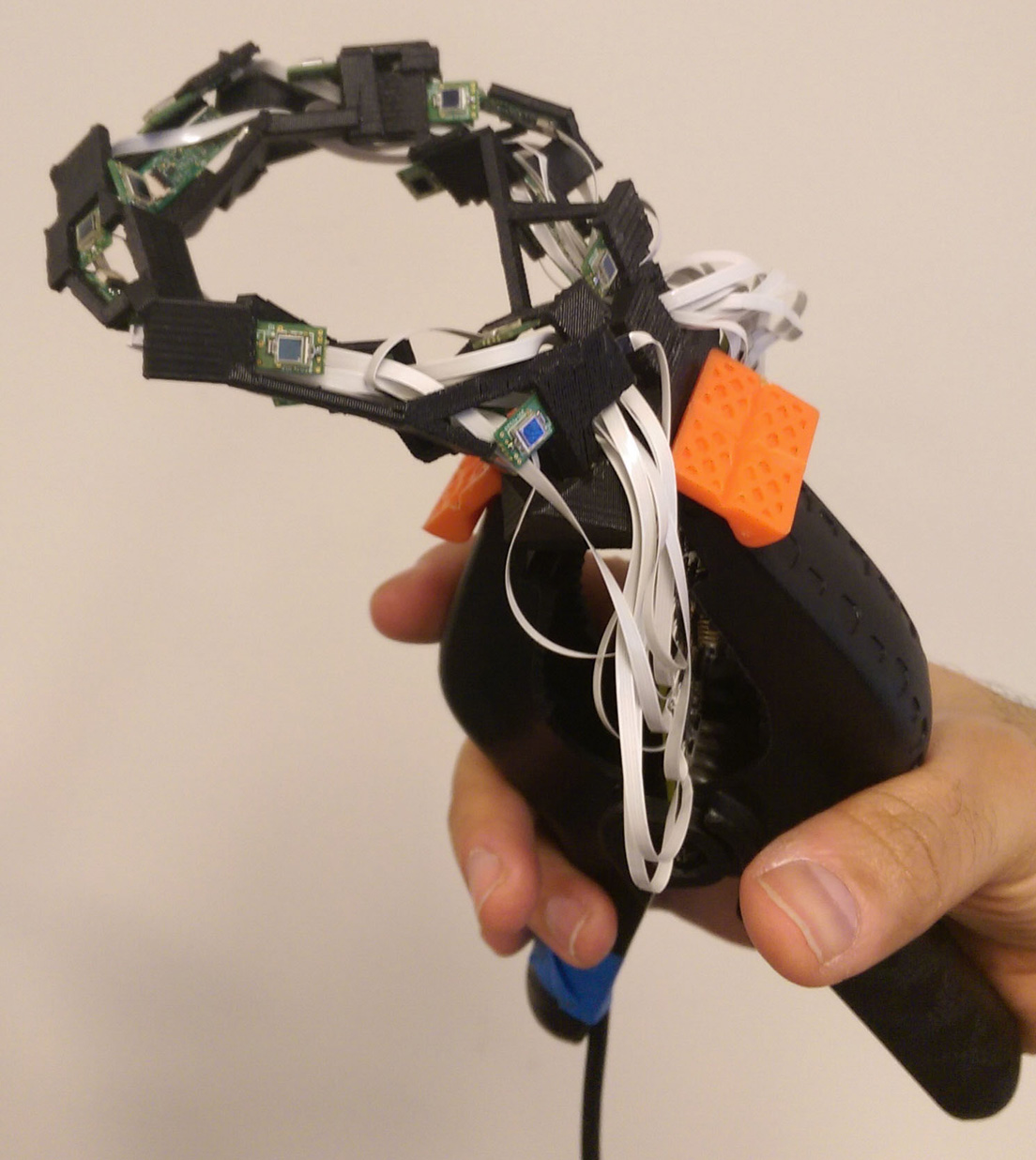 In addition to the headset, virtual reality is affected by two wireless motion controllers. They are crowned by a circular motion sensor and contain buttons and touchpads, which allow various ways of interaction in virtual reality.[14] Recently, the rumours appear that HTC develops an another type of controller, which would be more similar to a human hand, titled Manus VR, but it is not shipped with the HTC Vive at present.[15] The tracking of all the sensors is provided by two base station sensors. They have to be installed in the opposite corners of the virtual reality field, in which the user will be moving. In order to track them precisely, they have to be placed on high and stable spots. The recommended area of the virtual reality field is approximately 2 x 1.5 m (6.5 x 5 feet).[14]
Because of this combination of sensors, the HTC Vive was the first virtual reality device that truly enabled free movement in virtual reality. In order to make the movement in virtual reality as safe as possible, HTC and Valve invented the Chaperone system. It contains several functions which are supposed to protect the users from injury while using the device. Firstly, it shows them a blue network, the boundary in their virtual reality environment, should they leave the area bounded by the base stations. Secondly, it enables the users to see the shapes of the real environment around them upon request through the camera embedded in the middle of the headset. This makes them see whether an obstacle is too close to them.[9]
The HTC Vive could be linked with a mobile phone and users can received massages or send a simple answers while in virtual reality.[16]
The price of the device is 800 USD. In many cases it also requires further investments into a personal computer, since the recommended specifications for such system are considerably demanding.[4] Namely:
Intel i5-4590 / AMD FX 8350 equivalent or better
NVIDIA GeForce GTX 970 / AMD Radeon R9 290 equivalent or better
4GB or more
HDMI 1.4 or DisplayPort 1.2 or newer
1x USB 2.0 or better port
Windows 7 SP1 or newer[17]
Purpose
The HTC Vive's main purpose is to entertain and educate its users. It also provides a working field for artists, scientists and businessmen. Its possible use in therapy is significantly taken into consideration at present.
Company & People
The HTC Vive project is a conjunction of two projects which HTC and Valve ran separately. They conjoined their projects in 2014.[2]
Peter Chou – former HTC's Chief Executive Officer who started the project, retired[18]
Cher Wang – HTC's Chief Executive Officer
Gabe Logan Newell – Valve's Chief Executive Officer
Claude Zellweger – HTC's Head of Design
Chet Faliszek – Valve's Writer and the Key Virtual Reality Evangelist and the Developer Relations Liaison of the HTC Vive[19]
Dan O'Brien – HTC's Vice-president of Virtual Reality, Planning and Management
Phil Chen – HTC's Chief Content Officer and Founder of the HTC Vive
Joel Breton – HTC's Vice-president of Virtual Reality Content Development
Important Dates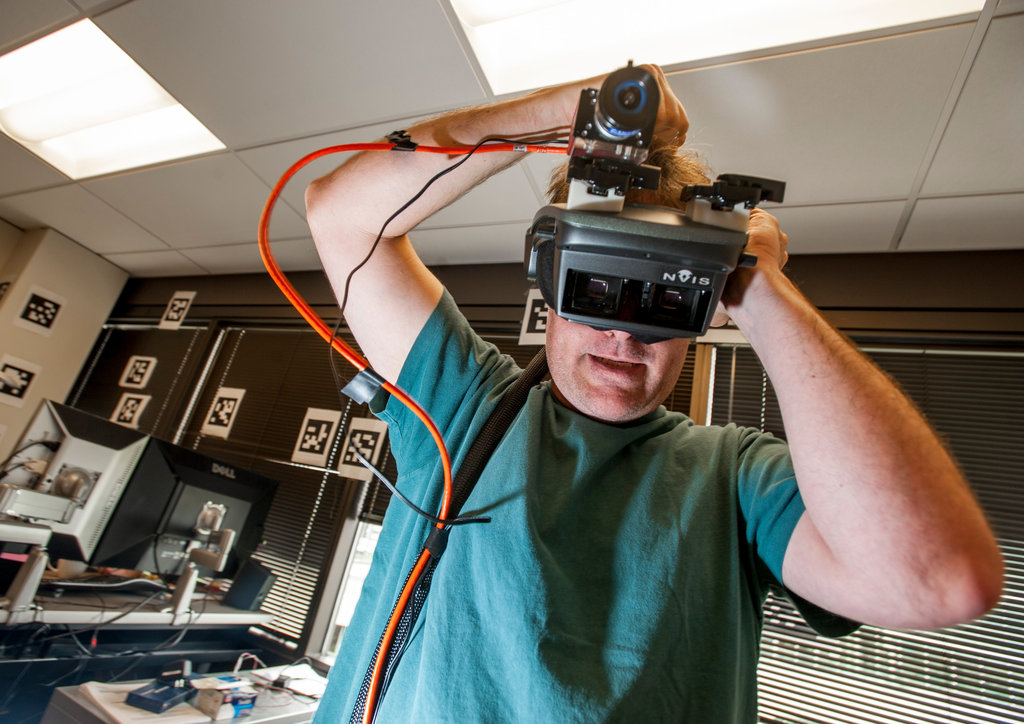 2012 - Valve started a development of their head mounted device
2013 - HTC began with advancement of their virtual reality device
2014 - HTC and Valve created a conjoint project in 2014
20 October 2014 - The developers were invited to join the project
1 December 2014 - The first developer kit entitled "-v1" was produced[2]
1 March 2015 - It was firstly announced at Mobile World Congress 2015
6 January 2016 - A developed version entitled HTC Vive Pre was introduced at Consumer Electronics Show 2016
29 February 2016 - The pre-order started[1]
5 April 2016 - The shipping started
10 June 2016 - The Bussines Edition began to be shipped[5]
Enhancement, Therapy and Treatment
Since virtual reality devices such as the HTC Vive allows simulating situations from Architecture, Engineering or Chemistry, which are safe and realistic at the same time, they possess various possibilities for in these fields of study.[20] In addition, designers in BMW appreciated HTC Vive's precise tracking, which could simplify their work. The 3-D models are also considerably less expensive than clay models which were used previously.[10]
The researchers claim that virtual reality has a great pedagogical potential. The positive impact which virtual reality has on an educational process was tested for several years. However, they argue that new devices as the HTC Vive could provide more compelling experience. These devices are also more accessible for users.[21]
There are studies of a therapeutically use of virtual reality in cases of stress, post-traumatic stress disorder, attention deficit hyperactivity disorder,[22] and the reduction of pain [23] which can be applied more or less on the HTC Vive. Nonetheless, a different virtual reality device was used in most of the research. There is, however, one exception, the Deep VR developed an app which reduces stress and anxiety and which was developed and tested on devices Oculus Rift and HTC Vive. Beside the virtual reality device, it requires a snug-fitting sensor, which monitors user's breath.[11]
The researchers also take into account the treatment of sexual offenders in virtual reality. This could, however, oppose laws of certain countries, which prohibit sexual representations, especially the images of nude children.[22]
Health Risks
The health risks of the HTC Vive could be divided into two sections. One, health issues that stem from virtual reality described under the title of cybersickness. It is a bulk of symptoms, such as headache or nausea. The majority of virtual reality devices could cause these symptoms in greater or lesser extent.[24] Certain reviewers argue that the HTC Vive does not cause them cybersickness, or its symptoms were milder.[25][26] However, a comprehensive study of this phenomenon and the larger group of respondents is needed for any conclusive claim.
Second, there are health risks which are the result of motion (even though the Chaperone system should avoid a majority of them). The HTC Vive could endanger users by falling over cables or hitting their limbs.[26] The bystanders could also be hurt if they stand too close to the user.[7] All the health risks are carefully described in the HTC Vive's Safety and Regulatory Guide.[27]
Ethical Issues
We found no ethical issues related to HTC Vive directly, but those applicable to virtual reality devices in general could be applied to the HTC Vive as well. Especially video games were intensively discussed recently. Although there are controversies such as addiction to video games[28] or microtransactions[29], the greatest issue is the violence, which some video games contain.[30][31][32] In addition, it was pointed out that virtual reality devices, such as the HTC Vive, make the entire experience more intensive and therefore the negative impact of certain content could be worse.[29]
Public & Media Impact and Presentation
There were rumours that Valve intent to join the Oculus Rift project, but they appears to disagree on several aspects of virtual reality device. Therefore, Valve built its virtual reality device with HTC. The first results of their project were unveiled at MWC 2015 and GDC 2015. In January 2016 a new version of the device entitled HTC Vive Pre was presented. The Chaperone system was announced at the same time. The HTC Vive Pre still slightly differed, however, from the version which was shipped from 1st March and which was entitled just HTC Vive.[2] The HTC Vive is generally appreciated by the reviewers and it won several awards.[33][34]
Disney's animator Glen Keane publicly supported the HTC Vive highlighting the fact that a user could create 3D paintings throught its app Tilt Brush.[35]
There was a controversy among the users of the HTC Vive and the Oculus Rift project. The anti-piracy technology of the Oculus Rift made Oculus-exclusive apps inaccesible for them. However, Libre VR bypassed it recently.[36]
Public Policy
We have not recorded any public policy that regards the HTC Vive. The possible restriction of its use is mentioned in sections "Enhancement, Therapy and Treatment".
Related Technologies, Project or Scientific Research
The users can purchase their apps in SteamVR a virtual reality's counterpart of Valve's Steam.[7]
There are two projects which are related to the HTC Vive at present, HTC Vive Business Edition[5] and Manus VR[15]. While the former is already shipped, the latter has not been finished yet.
There is no scientific research regarding specifically ethical issues or health risks of the HTC Vive, but certain research concerning virtual reality devices or even virtual reality in general may apply.[31]
References
↑ 1.0 1.1 WILLIAMS, Rhiannon. HTC Vive pre-orders to start on February 29. The Telegraph [online]. 2016, Jan 11. Available online at:http://www.telegraph.co.uk/technology/news/12092607/HTC-Vive-pre-orders-to-start-on-February-29.html (Retrieved 1st August, 2016).
↑ 2.0 2.1 2.2 2.3 2.4 SOUPPOURIS, Aaron. How HTC and Valve built the Vive: A VR headset four years in the making. Engadget [online]. 2016, Mar 18. Available online at: https://www.engadget.com/2016/03/18/htc-vive-an-oral-history/ (Retrieved 1st August, 2016). Cite error: Invalid <ref> tag; name "oral history" defined multiple times with different content Cite error: Invalid <ref> tag; name "oral history" defined multiple times with different content Cite error: Invalid <ref> tag; name "oral history" defined multiple times with different content
↑ MATNEY, Lucas. The HTC Vive Ships April 5, Pre-Orders Open Now. TechCrunch [online]. 2016, Feb 29. Available online at: https://techcrunch.com/2016/02/29/the-htc-vive-ships-april-5-pre-orders-open-now/ (Retrieved 1st August, 2016).
↑ 4.0 4.1 4.2 4.3 PINO, Nick. HTC Vive review. TechRadar [online]. 2016, Jul 18. Available online at: http://www.techradar.com/reviews/wearables/htc-vive-1286775/review. (Retrieved 1st August, 2016). Cite error: Invalid <ref> tag; name "techradar review" defined multiple times with different content Cite error: Invalid <ref> tag; name "techradar review" defined multiple times with different content Cite error: Invalid <ref> tag; name "techradar review" defined multiple times with different content
↑ 5.0 5.1 5.2 Vive team. Vive Business Edition Now Available. Vive Blog [online]. 2016, Jun 10. Available online at: http://blog.htcvive.com/us/2016/06/vive-business-edition-now-available/ (Retrieved 1st August, 2016). Cite error: Invalid <ref> tag; name "blog BE" defined multiple times with different content Cite error: Invalid <ref> tag; name "blog BE" defined multiple times with different content
↑ SWIDER, Matt. HTC Vive vs Oculus Rift: which VR headset is better? TechRadar [online]. 2016, Aug 5. Available online at:http://www.techradar.com/news/wearables/htc-vive-vs-oculus-rift-1301375 (Retrieved 22nd August, 2016)
↑ 7.0 7.1 7.2 7.3 http://www.tomsguide.com/us/htc-vive,review-3513.html (Retrieved 1st August, 2016)
↑ 8.0 8.1 8.2 8.3 http://www.wareable.com/vr/htc-vive-vr-headset-release-date-price-specs-7929 (Retrieved 1st August, 2016) Cite error: Invalid <ref> tag; name "release price" defined multiple times with different content
↑ 9.0 9.1 https://www.engadget.com/2016/01/05/htc-vive-virtual-reality-chaperone/ (Retrieved 1st August, 2016)
↑ 10.0 10.1 10.2 http://www.techradar.com/news/computing/pc/bmw-straps-on-the-htc-vive-to-speed-up-car-development-1318543 (Retrieved 1st August, 2016)
↑ 11.0 11.1 https://www.engadget.com/2016/04/28/a-virtual-reality-game-thats-good-for-you-and-scientist-approve/ (Retrieved 1st August, 2016)
↑ http://cen.acs.org/articles/94/i14/chemists-tilt-heads-virtual-reality.html (Retrieved 1st August, 2016)
↑ http://arstechnica.com/gaming/2016/05/why-vive-has-won-the-early-vr-race-in-my-house/2/ (Retrieved 1st August, 2016)
↑ 14.0 14.1 https://www.engadget.com/2016/04/05/htc-vive-review/ (Retrieved 1st August, 2016)
↑ 15.0 15.1 http://www.techradar.com/news/wearables/next-level-htc-vive-arm-controllers-totally-immerse-user-in-vr-1320564 (Retrieved 1st August, 2016)
↑ http://www.htcvive.com/eu/support/howto/720361.html (Retrieved 1st August, 2016)
↑ http://www.htcvive.com/eu/support/faqs/GUID-ABA623FC-B51F-43F7-B2B5-D4C83A37C992.html (Retrieved 1st August, 2016)
↑ http://www.cnet.com/news/former-htc-ceo-peter-chou-retires/ (Retrieved 1st August, 2016)
↑ http://voicesofvr.com/335-valves-chet-faliszek-on-vive-launch-title-highlights/ (Retrieved 1st August, 2016)
↑ HILFERT, Thomas; KÖNIG, Marcus: Low-cost virtual reality environment for engineering and construction, Visualization in Engineering 4 (2016) [online] http://viejournal.springeropen.com/articles/10.1186/s40327-015-0031-5 (Retrieved 3rd August, 2016)
↑ http://www.landmark.edu/institute/read-our-monthly-newsletter/the-potential-for-virtual-reality-in-education-for-students-who-learn-differently/ (Retrieved 3rd August, 2016)
↑ 22.0 22.1 https://theconversation.com/how-virtual-reality-can-help-treat-sex-offenders-33955 (Retrieved 2nd August, 2016)
↑ https://www.technologyreview.com/s/601911/better-than-opioids-virtual-reality-could-be-your-next-painkiller/ (Retrieved 2nd August, 2016)
↑ http://www.telegraph.co.uk/news/health/news/12001743/Cybersickness-The-new-illness-sweeping-the-nation.html (Retrieved 2nd August, 2016)
↑ https://www.engadget.com/2015/03/10/valve-htc-vr-owlchemy-indie-games/ (Retrieved 2nd August, 2016)
↑ 26.0 26.1 http://www.wareable.com/vr/htc-vive-review (Retrieved 2nd August, 2016)
↑ http://dl4.htc.com/web_materials/Safety_Guide/Vive/Vive_safety_and_regulatory_guide_ENG-DEU-DAN-FIN-SVE-NOR-FRA-ITA-ESN-NLD-CSY-PLK.pdf?_ga=1.71873562.883287124.1469712001 (Retrieved 2nd August, 2016)
↑ http://www.video-game-addiction.org/ (Retrieved 2nd August, 2016)
↑ 29.0 29.1 http://singularityhub.com/2016/05/19/a-virtual-reality-manifesto-the-good-bad-and-the-ugly/ (Retrieved 2nd August, 2016)
↑ PATRIDGE, Stephanie L.: Pornography, ethics, and video games 15 (2013): 25–34. [online] http://rd.springer.com/article/10.1007/s10676-012-9310-1 (Retrieved 2nd August, 2016)
↑ 31.0 31.1 STRIKWERDA, L.: Present and Future Instances of Virtual Rape in Light of Three Categories of Legal Philosophical Theories on Rape, Philosophy & Technology 28 (2015): 491–510. [online] http://rd.springer.com/article/10.1007%2Fs13347-014-0167-6 (Retrieved 2nd August, 2016)
↑ BARTEL Christopher: Free will and moral responsibility in video games, Ethics and Information Technology 17 (2015): 285–293. [online] http://rd.springer.com/article/10.1007/s10676-015-9383-8 (Retrieved 2nd August, 2016)
↑ http://blog.htcvive.com/us/2016/01/vive-ces-2016-recap/ (Retrieved 2nd August, 2016)
↑ http://www.eha.digital/awards/european-hardware-awards-2016-winners-announced/ (Retrieved 2nd August, 2016)
↑ https://www.engadget.com/2015/09/10/glean-keane-vr/ (Retrieved 2nd August, 2016)
↑ http://www.techradar.com/news/gaming/oculus-rift-s-anti-piracy-tech-has-badly-backfired-1321940 (Retrieved 2nd August, 2016)