Sony SmartEyeglass
Jump to navigation
Jump to search
SmartEyeglass Developer Edition SED-E1 is a prototype designed for app developers. It consists of an eyewear device and a wired controller that communicates with a smartphone or tablet. The glasses have a sizeable frame with lenses that act as binocular see-through displays showing information in monochrome (green). The puck-shaped controller is separated from the eyewear and connected to it by cable. The device can be voice-controlled. To display information, the device connects to a host Android device via Bluetooth or Wireless LAN. For the final consumer product, the company aims towards scaling down the size of the eyewear and finding a better solution for the controller. For now, the focus is on developing apps for the device. SmartEyeglass will first be released for businesses in 2015 and then for consumer market in 2016. The Apps will be available to download from the Google Play store, including "SmartEyeglass apps that let you access Twitter, Facebook, Gmail, RSS, calendar and voice control."[3]
Previous version of Software Developer Kit: Developer Preview SDK, available since September 2014.
Main Characteristics
The eyewear contains a binocular display, a camera, and sensors. The display's resolution is 419x138 with diagonal 20 degrees field of vision and monochrome (green) display colour with 8 bit colour depth. The camera can take 3 Megapixels still images and stream videos (QVGA). It is located behind the left lens. The sensors built into the eyewear include electronic compass, accelerometer, gyroscope, and brightness sensor. The controller contains a battery, microphone, speaker, touch sensor, and buttons: power, camera, back, and talk button for voice control.[4]
Purpose
Sony SmartEyeglass is a binocular head-up display that connect to a smartphone and can show relevant information that is superimposed onto the user's field of view.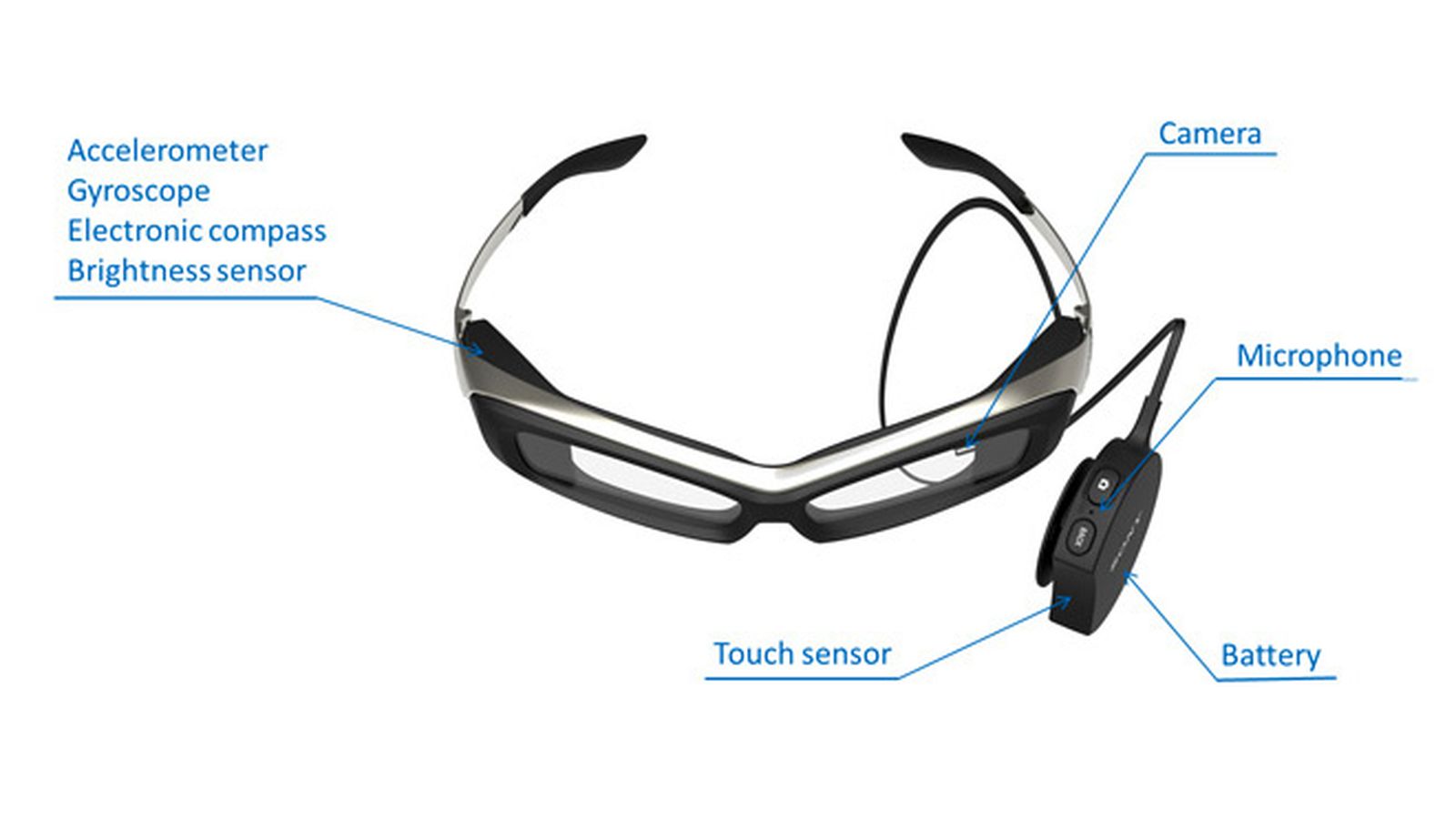 Company & People
Sony Corporation was founded on May 7, 1946. It is a multinational conglomerate corporation headquartered in Tokyo, Japan.
Representative Corporate Executive Officers: Kazuo Hirai, President and CEO; Kenichiro Yoshida, EVP and CFO.[5]
Head of the SmartEyeglass Project: Hiroshi Mukawa[6]
Important Dates
Announced in September 19, 2014.
Prototype first presented at CES 2015 in Las Vegas.
SmartEyeglass Developer Edition SED-E1 will be offered for sale in Japan, the United States, the United Kingdom, and Germany from March 10, 2015.[7]
In the UK and Germany, the device is available for pre-order since February 17, 2015.[3]
It will also be offered for sale to enterprise customers in France, Italy, Spain, Belgium, the Netherlands and Sweden from March 10.
Sony plans to commercialize the product for both consumers and enterprise customers in 2016.[7]
Ethical & Health Issues
There are no ethical or health issues connected to this particular device.
For more general issues connected with smartglasses, please see the Smartglasses synopsis.
Enhancement/Therapy/Treatment
Enhancement - The device enables the user to view and use digital information that is displayed over his vision field. This way, the user can access the data in more natural fashion and hand-free.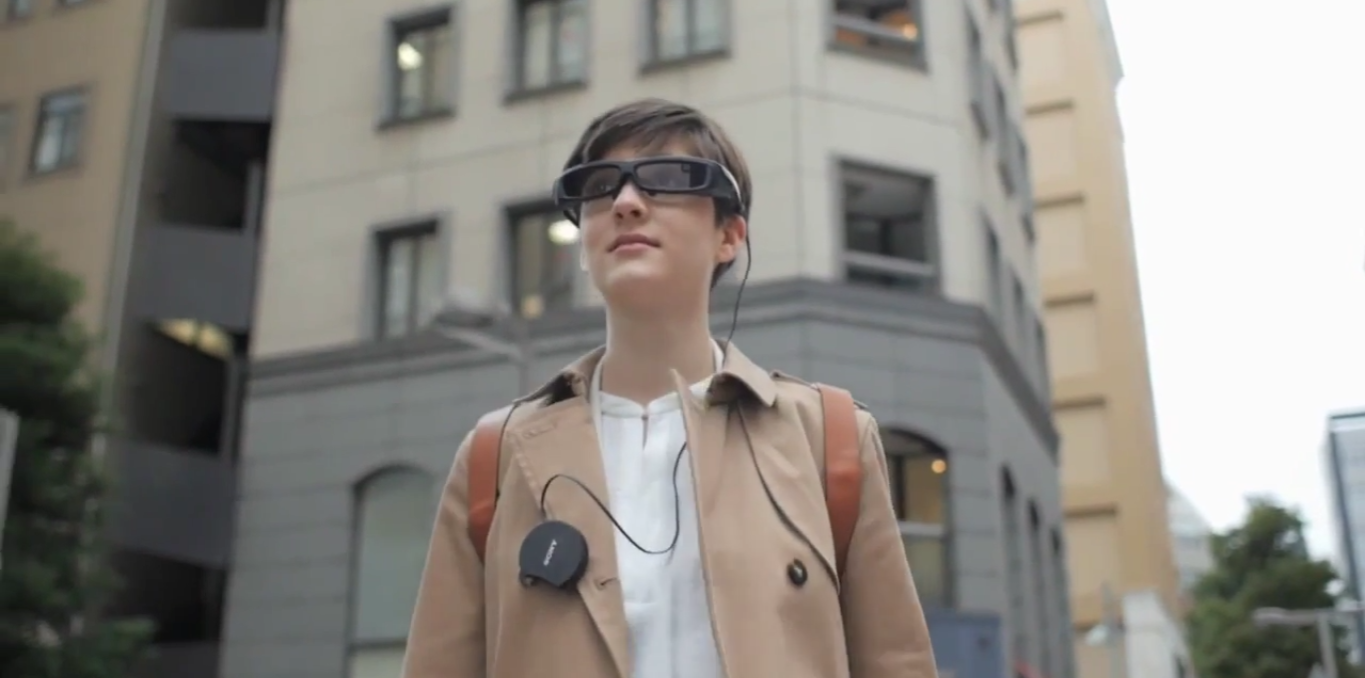 Public & Media Impact and Presentation
Sony SmartEyeglass is largely criticized in the reviews for its size and inconvenient controller. However, the reviewers are aware of the device being a prototype model and are eagerly expecting improved and more acceptable and wearable versions that could succeed on consumer market.[8][9][10]
Public Policy
There is no public policy that considers this device specifically.
For more information about policies related to smartglasses, please see the Smartglasses synopsis.
Related Technologies, Projects, or Scientific Research
There are no related projects or research relevant to this device specifically.
For more information about this type of devices, please see the Smartglasses synopsis.
References