BioRing
Jump to navigation
Jump to search
BioRing is supposed to be a new type of smart fitness wearable, one of the smallest on a market. It should have close-fitting contact with body of its owner and thanks to it could measure more data. BioRing is reputedly equipped with three types of sensors, which measure intake and consumption of calories, amount of stress during day, phases of sleep during night and other parameters. To access informations from the device it is necessary to connect a smartphone or a tablet. The idea of BioRing was supposedly born in November 2014 in minds of three engineers who then formed company BioRing Inc. Later in June 2016 they started IndieGoGo campaign which successfully funded start of mass production and introduction on the market in November 2016.[2] However at the beginning of that month nobody get the ordered product nor prototype and the campaign on IndieGoGo has been closed.[2]
Main Characteristics
The device has following characteristics on the page of BioRing on crowdfunding server. However, this features have never been proved. Bioring looks like ordinary ring, but it are purportedly three types of sensors which measures functions of human body inside. An accelerometer can measure a motion of its owner during day. The second sensor measure a heart rate and from it calculates level of stress and sleep. The most innovative should be the sensor of bioimpedance, which thanks to tight contact with skin could measure hydration of cells by sending electric signals with high and low frequencies.[2] The amount of water is linearly inverted to amount of glucose depending on sort and quantity of food.[2] It is frequent, that a devices for the bioimpedance measuring have two electrodes, not only one sensor as on the picture with the components. After connecting a smartphone or tablet, an application constructs graphs of these parameters and calculates, how much water and calories it is good to take in. Beside this the ring is supposed to be equipped with small motors which should vibrate when the connected smartphone has some notification. BioRing should be compatible with iOS8 and Android 4.4 by Bluetooth,[2] but there is no id transmitter which could send a signal in the picture with components within the ring. Apart from this, a technology of Bluetooth connection in a ring have been patented by another company.[3]
BioRing is supposed to be made from ceramic zirconium, be waterproof and scratch proof. Customers can choose from several sizes and three colors – blue, black and white. During campaign on crowdfunding server were introduced some limited editions of carbon, silver, gold and matte rings.[2] However a price of the ring made from 18K gold is approximately same as a price of same common 18K ring. Second problem is, that optical LED sensor can not penetrate through a metals as gold or silver.[4] A part of a packet is allegedly a charging station, because the ring is necessary to charge approximately once per week.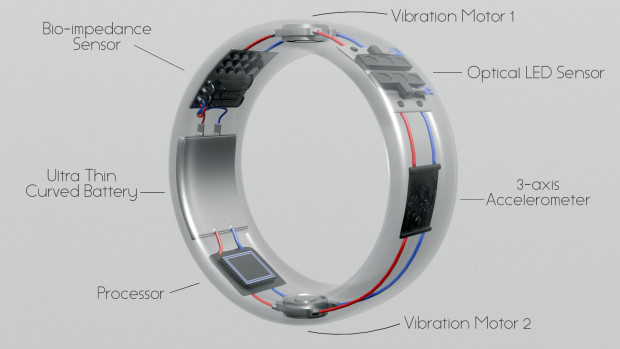 Purpose
A purpose of BioRing is to monitor processes of human body which is suitable to know for healthy lifestyle - heart rate, activity intensity, calories and water intake/consumption or sleep status.
Company & People
co-founders:
The team about BioRing is presented as an international team with experts in Sweden, the USA, China, Germany, and Denmark. However detail informations about co-founders were deleted from official pages during October 2016.
Important Dates
November 2014 - idea was born, concept designed and team formed
January 2015 - researching on the market, concept testing
July 2015 - first gen prototype was developed
June 2016 - started campaign on IndieGoGo
November 2016 - should start mass production, campaign was closed[5]
Enhancement/Therapy/Treatment
BioRing is not an invasive technology, its only task is to measure a body functions. It can make lifestyle of its owner more healthy only indirectly.
Ethical & Health Issues
In order to measure and calculate the most precise result it is necessary to wear BioRing as frequently as possible. It could cause eczematic reaction on the skin under the ring, because there can stay a dirt. This reaction is known as "wedding ring rash".[7]
As a device which have to be connected to smartphone or tablet there exist a risk of personal data abuse. However the producers says that BioRing uses secure pairing and data encryption to ensure privacy of their customers.[5]
Public & Media Impact and Presentation
In June 2016 the BioRing company developed campaign on crowfounding server IndieGoGo and there they were offering that their backers gets BioRing for lower price. They have withdrawed more than 500 000 USD, but in November 2016 when production and shipping should have started, nobody got their indents. An owner of the campaign Dan Bidar is not communicating since then and the campaign has been closed. The backers demands refund,[8] , but company IndieGoGo informed them, that it can not return their money:
"We are writing to inform you that we have suspended the BioRing campaign because of a recent violation of our Terms of Use. As a result, the BioRing team can no longer update contributors on the status of the campaign on Indiegogo. However, the BioRing team has access to all order details for contributions submitted to their campaign. You contributed X USD to this campaign, which was disbursed to the BioRing team on August 24th, and Indiegogo does not have access to these funds (...)"[9]
There were developed web pages of dissatisfied customers, which make an effort to give their investment back.[10] [11] John Lewis is a journalist, who is interested in crowdfunding deceptions, and he used BioRing as a typical example of this in his article.[12]
Some people on internet discussions assert, that project of BioRing have been dubious, because so small object with so many technologies and such quality actually can not exist.
"This doesn't make physical sense. A vibration motor, by its nature, needs to be accelerating a significant mass at a pretty low frequency. MEMS devices are far too small, and vibrate too quickly, to be useful in this application."[13]
However, there arose still many articles on the internet during summer 2016 (for example on web pages Digital Trends[14], Wareable[15] , Forbes[16], Tech.co[17] ) which promote BioRing, but their information is the same as information on official pages of BioRing.
In January 2017, Wareable listed 'BioRing' among smart rings, which failed to fulfil their obligations. They informed that BioRing's Indiegogo campaign was closed and the device has not been shipped yet.[18]
Public Policy
In a database of Food and Drug Administration is under the name of BioRing registered some different technology – an aid for cardiovascular surgery.[19]
Related Technologies, Projects, or Scientific Research
The technology of smart rings has become more popular during last years. In comparison to a smart bracelets, developers of rings are limited by small size. There are two options: a ring can be bigger, but less comfortable – this is case of smart rings Nod[20], ARING PRO[21] or Siren[22] - or if it want to be small, then its technologies and functions are limited. Some function as fitness tracker, for example Pulse ring works as watch, stopwatch and heart-rate tracker[23]. Ring[24] and FinRing [25], by measurement of hand and fingers movement, can control a smartphone or some other devices. A frequent function of these smart rings is notification of incoming calls and messages from smartphone. For example Kerv[26] and NFC ring[27] are able to unlock a smart locks and they can be used for payment. However none of this devices have so many technologies in so small object as BioRing. Some of them are as new as the BioRing and they are presented on crowfounding servers with no assurance that they really works as their founders say.
References