Epson Moverio BT-200
Jump to navigation
Jump to search
Epson Moverio BT-200 smart glasses are a truly augmented reality device, in that they integrate the digital projection into wearer's immediate surrounding, which is enabled by the semi-transparency of projected image floating in space. In that sense, they conceptually fall in between smart glasses with display hovering in the corner of an eye (e.g. Google Glass) and the immersive experience of VR, which fully blocks out the real world (e.g. Oculus Rift).[3][4] Lockheed Martin trials Moverio BT-200 for the training of its technicians in building and maintaining F-35 fighter jets.[5] NGRAIN, the company that created the software used in the trials, informs that engineers equipped with the glasses work 30 percent faster with the accuracy up to 96 percent.
The previous version was the Epson Moverio BT-100 (announced in November 2011 and released in March 2012). In June 2015, Epson announced a new version of the BT series, the Moverio BT-2000.[6]
Main Characteristics
The device runs on Android platform [OS 4.0.4]. It consists of two parts: headset and control unit (connected by cable). The glasses are binocular, with two LCD displays (16:9) and two micro projectors embedded into both sides, projecting the image on the miniature screens. The image appears in the centre of the field of view and the screen gets bigger with the increase of projected distance: 80 inch at 5 m - 320 inch at 20 m.[7] A VGA camera is embedded on one side, and serves more for augmented reality apps and object recognition than as a photography tool.[3] They weigh 88g and the adjustable rubber nose-piece make them sit comfortably on the face. The microphone is embedded in the headset.
The controller is connected to the headset by a cable. It is a smartphone-shaped device with a textured touchpad supporting multi-touch gestures, and it has Menu, Home, and Back buttons specific for Android. Volume, brightness, and power controls are on the side. It contains TI OMAP 4460 1.2Ghz Dual Core CPU with 1 GB of RAM, 8 GB of internal memory, and additional 32 GB with a MicroSD card.
Both headset and controller have a compass, gyroscope, and accelerometer, while the GPS is in the controller. It also houses a battery which lasts for about 6 hours. Dolby Digital Plus surround sound increases the immersive experience. Connectivity includes WiFi, Bluetooth 3.0, and a microUSB port. AS for Moverio BT-200 applications, Epson hosts both the Developers Site and Moverio App Store.
Purpose
The product is primarily oriented towards enterprise use in industry, retail, and medicine, but it also expands to entertainment in order to target wider consumer population.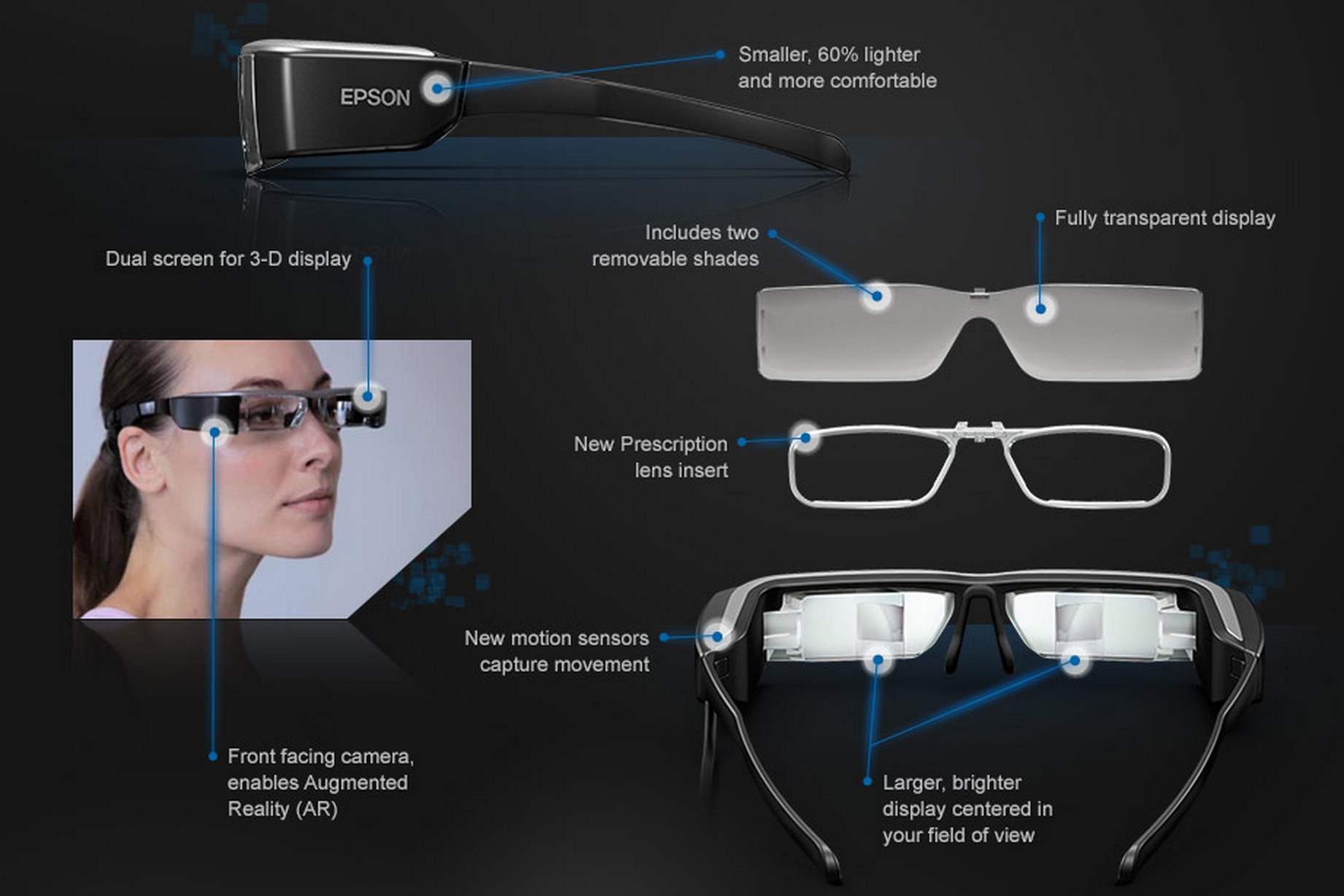 Company & People
Seiko Epson Corporation was founded in 1942, Suwa, Nagano, Japan. It's production is mainly focused on information-related equipments, electronic devices, and precision products.[8]
Epson Board of Directors: Minoru Usui, President; Noriyuki Hama, Senior Managing Director; Shigeki Inoue, Managing Director; Yoneharu Fukushima, Director; Koichi Kubota, Director; Motonori Okumura, Director; Junichi Watanabe, Director; Masayuki Kawana, Director; Toshiharu Aoki, Director (outside director); Hideaki Omiya, Director (outside director).
Epson Moverio Partners: Metaio, APX LAbs, Scope AR, Evena Medical, Qualcomm Vuforia, DJI Phantom 2 Vision+, Rochester Optical, Aero Glass.
Important Dates
Announced at CES, January 2014 Available and shipping since March 2014.
Ethical Issues & Health Risks
There has been no issues noted with Moverio BT-200 so far specifically. However, some general issues connected to Smartglasses in general still apply.
Enhancement/Therapy/Treatment
Enhancement - Moverio BT-200 is marketed towards industrial and business use. It has features that have the potential to improve efficiency in a workplace.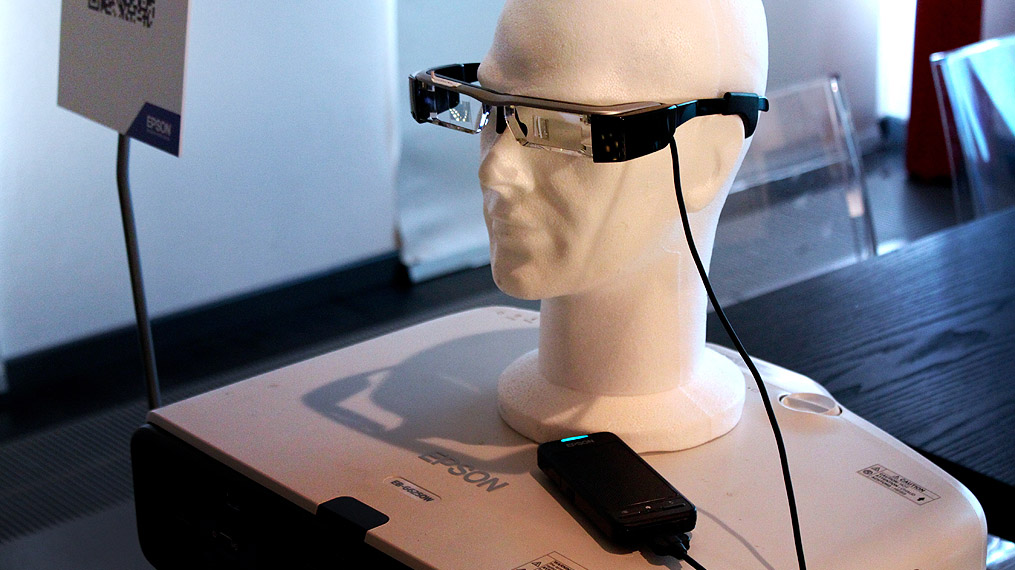 Public & Media Impact and Presentation
In majority of professional reviews, the overall rating and general attitude towards Moverio BT-200 is positive.[4][9][10][11][12] It represents a new, more immersive approach to designing smart eyewear, conceptually and functionally different from heads-up display of Google Glass. For this reason, Moverio BT-200 is given credit for innovation, design, capabilities, and especially potentials for further development. The most cited disadvantages of the device include size, lack of style, and bulkiness of the glasses, cable connection between glasses and controller, and lack of their commercial use in consumer space.
However, with the development of entertainment-targeted apps and their availability in Moverio App Store, Moverio BT-200 has a potential for wider acceptance in general public, depending on the market for this type of wearables. Although for now, Epson targets industrial markets and some recent reviews state that, when compared to other devices, BT-200 is underwhelming.[13]
Public Policy
Related Technologies, Projects, or Scientific Research
References