Fitbit
Jump to navigation
Jump to search
Fitbit Charge is one in a series of smart fitness trackers from the American company Fitbit. Like its predecessors, it is characterised by simple design. The wristband is equipped with sensor that is able to scan daily activity of its owner, including his workout and sleep activities. Fitbit Charge is compatible with several operating systems.[3]
Main Characteristics
Fitbit Charge is a smart wristband for all-day use. It is composed of an elastic strip innocuous to human skin, a metal fastening similar to conventional watches, a small rectangular OLED display, and sensors for scanning activity of the wearer. Of course, it also displays the current time. The wristband has a variety of essential functions from the pedometer, which measures achieved time and distance, to monitoring the user's sleep, and provides a silent alarm. One last useful function is the monitoring of incoming call notification.[3] The Charge model is the basic version of this series. In addition to basic functions, Model Charge HR is equipped with a heart rate sensor and GPS, and displays real-time states of activities in an application on the owner's smartphone.[4] [5]
The wristband is durable due to its material. The manufacturer states it is waterproof to 1 ATM, but only to sweat and rain. Therefore, it is not suitable for swimming or showering. Charge is equipped with three sensors: the accelerometer records the frequency and speed of physical activity; the altimeter works together with the accelerometer to measure the number of floors achieved per day. The vibrating motor displays notifications. In the case of incoming calls, the motor will vibrate slightly to signal the holder about the event. However, it is not possible to receive calls directly through the device.[6] [7]
The developer highlights a long life battery and compatibility with a wide range of devices, from smartphones to PCs. After pairing with applications in mobile phones or another desktop, the application is able to display customised settings of the wristband that features important information about the owner's activity, such as number of steps completed, duration of motion and workout, distance, and number of burned calories. The wristband stores this information in the application and monitored for a long period of time.[3]
In order to take advantage of the full use of all of its functions, Fitbit Charge must be installed on users' smartphones or other devices. Fitbit has developed a unified application that is compatible with a variety of operating systems and platforms, including Windows iPhone, iOS, and Android. The developers provide a list of devices that are suitable for Fitbit on their website. The synchronisation wristband with the phone passes through Bluetooth 4.0 and runs over a distance of up to 6 metres (20 feet). Transfer of information to the computer runs via Windows (Vista and later), Mac OS X (and later), iPad 3 Gen (and later), and leading Android and Windows devices.[3][5]
Other Fitbit models produced in 2015 include:[8]
Fitbit Zip
Fitbit One
Fitbit Flex
Fitbit Charge HR
Fitbit Surge
Purpose
Fitbit is a smart device that is able to monitor its owner's daily life and fitness activities. Through the monitoring of stored information, it assists the wearer in achieving better results within a fitness-focussed and healthy lifestyle.
Company & People
Fitbit was founded in 2007 in San Francisco, CA.[3]
James Park - CEO, President & Co-Founder
Eric N. Friedman - Chief Technology Officer & Co-Founder
Edward M. Scal - Chief Revenue Officer
Bill Zerella - Chief Financial Officer
Steven Soderberg - VP, Information Technology
Important Dates
Ethical Issues
No serious ethical issues have been revealed in regards to the Fitbit device. One problem could be the protection of user privacy. This question, however, relates to almost all the wearables that operate on the basis of providing personal information to an external processor, most equipment manufacturers, or other organisations.[11] Most manufacturers, however, assure their customers that their data are secure against misuse.
Health Risks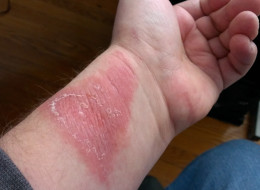 Skin irritation appeared on users' wrists for one of the models, Fitbit Force, which was recalled last year. Charge and Charge HR models are experiencing similar difficulties. The Fitbit company responds to complaints as a failure to abide by the hygiene recommendations. Skin burning could be caused by sweat, water held under the band,[12] or an allergic reaction to materials composing the device (band and nickel in stainless steel).[13]
Some US insurers, together with the employers, included smart bracelets like Fitbit into their wellness programs. The aim of these programs is to force clients to invest more time and money in their health. The motivation for clients is reduction in the rate of health insurance they must pay. Many North American companies now invest in improving the health of their employees through the purchase of smart bracelets. These programs offer more benefits than just the reduction of obligatory insurance. In addition to health benefits, employees can exchange their achieved goals with a day off, for example.[11]
Enhancement/Therapy/Treatment
Fitbit products are not recognised as medical aids. Owners use this device to improve their health through the monitoring of their daily physical activity. It is therefore a wellness device that can help users lead a healthy lifestyle. Due to the functions of mobile applications (from the activity monitor to the entry menu), users watch their daily routine, and in accordance with the recommendations they can prevent various health complications.
Public & Media Impact and Presentation
There is a hype around the introduction of each model of Fitbit. Most mentions of this technology are in the form of user and expert reviews. Although Fitbit has experienced good reviews from its fans and users, it also has some negative publicity. In May 2015, Fitbit was accused by its main competitor, Jawbone, of taking over employees and stealing know-how information.[14]
Public Policy
No legislation has been established regarding the protection of personal data provided by the user. Data are stored on the web interface, which can lead to information theft or other illegal dealings with the personal data of individuals.
Related Technologies, Projects, or Scientific Research
There are no related technologies, projects, or scientific research.
References