Halo Sport
Jump to navigation
Jump to search
Halo Sport is head mounted device, which provides transcranial direct-current stimulation (tDCS). It was developed by Halo Neuroscience as a tDCS device, which could be safely used outside laboratories. The device consists of a wearable headset on which are placed two electrodes and a neurostimulator, which is powered by battery.[11] The electrodes are entitled "primers" by Halo Neuroscience.[10] Apart from tDCS, they provide also transcranial variable frequency stimulation (tVFS).[12] The both methods are referred as "neuropriming".[10]
The device stimulates motor cortex. If it is used during a training, it is supposed to enhance motor abilities of its users,[13] which could make the training more effective. This feature was appraised by several sport organisations as US Ski and Snowboard Association, Michael Johnson Performance, or Invictus that take a part in Halo Sport's testing.[5] Halo Sport is also used by U.S. Department of Defense for improving skills of special operations forces.[14]
Main Characteristics
Halo Sport is standalone fully enclosed device. The device consists of headset, three electrodes, ear-pads, USB charging cable, USB wall adapter and spray bottle.[15] In the headset could be placed two or three electrodes. The electrodes are placed at (left) C3, (right) C4 placement (above the ear, halfway to the center of the head) [7] resp. at CZ placement (center of the head)[8]. In contrast to other tDCS devices the position of electrodes is settled. Electrodes can be removed, but not placed to any other location on scalp.[16] Electrodes consist of foam spikes[6] and they must be changed after three month's use.[17] In addition, electrodes need to be wet before the start of every session.[18]
The headset could be plugged in phone and played music as a regular headphone. The phone and Halo Sport have to be connected by a 3.5 mm audio cable which is included in the box. However, it does not play music over Bluetooth.[19]
The device includes lithium-ion rechargeable battery. The battery need to be recharged approximately each 8 session, depending on the use of the device. The use of headphones for listening music does not affect battery life.[20]
The whole device is controlled by the app in smartphone or tablet. The app also allows to specify the requisite output of the training and neuropriming, i.e. the focus on hands, arms or legs.[16]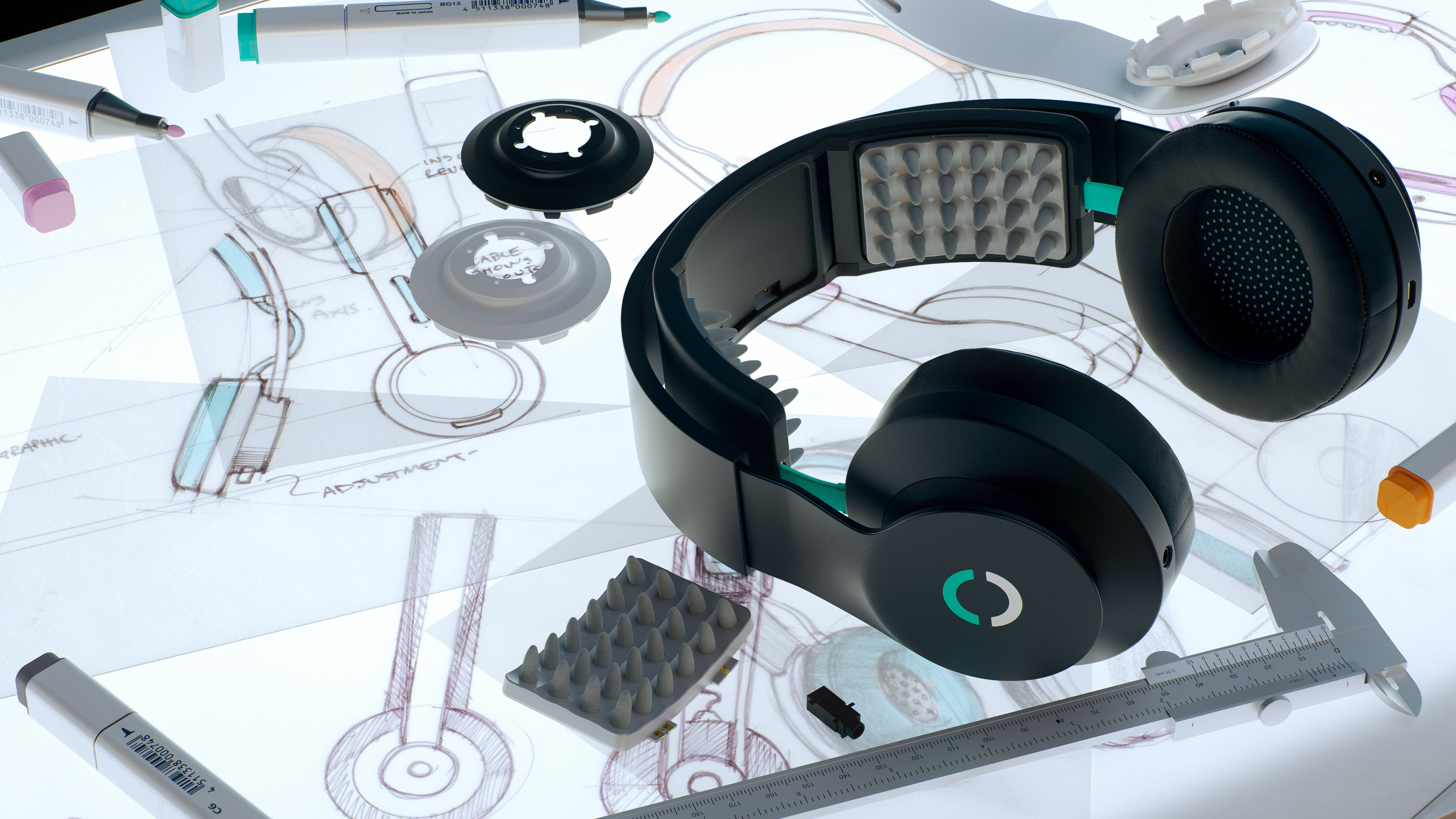 Users have to spray the electrodes by water until they change the colour to dark grey before a start of a session. The results are better if the electrodes are removed during this procedure. After watering, they could be returned to the headset, the headset placed on the skull and the session could started. The user votes the start of the process and the precise setup of the session in device's app.[21] One session should take from 20 to 30 minutes and should be accompanied with training.[6]
Purpose
The main purpose of the device is to enhance physical abilities of its user through neuropriming.
Company & People
Halo Neuroscience is a company based in San Francisco, which focuses on brain stimulation. The two co-founders of the company, Daniel Chao and Brett Wingeier worked previously in Neuropace. Their first product is Halo Sport.[6]
Daniel Chao - co-founder and CEO of Halo Neuroscience
Brett Wingeier - co-founder CTO of Halo Neuroscience
Amol Sarva - co-founder and Board Member of Halo Neuroscience[22]
Mark Mastalir - Chief Marketing Officer[23]
Reed Hundt - adviser
Susan Paley - adviser
Gary Abrams - adviser
Nick Drake - adviser
Mark George - adviser
Andy Walsh - adviser
Mario Schlosser - adviser[22]
Important Dates
Enhancement/Therapy/Treatment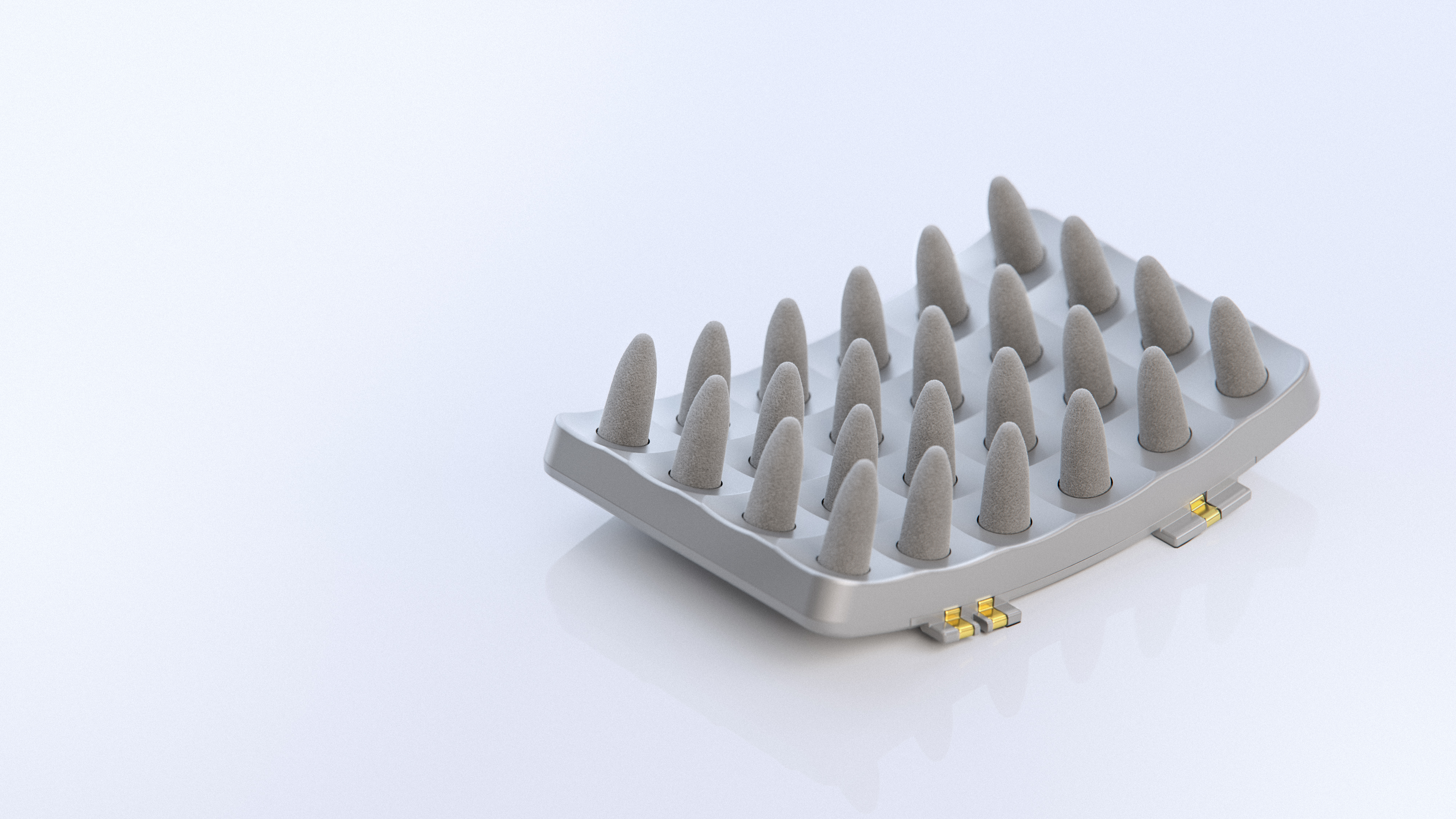 The improvement of user's skill is based on neuroplasticity of the brain. It is the function of the brain which allows to learn foreign language or new skill. According to Daniel Chao, Halo Sport increases the neuroplasticity of its users, hence they benefit from their training more than those who train their physical skills without the device.[16] However, in order to enhance physical abilities, the use of Halo Sport have to be paired with training of these abilities.[2]
There is a considerable amount of studies which claim that tDCS does not have any effect.[26] However the research in US Ski and Snowboarding Association[27] indicates that there might be a certain positive effect in the case of Halo Sport. Halo Neuroscience also published their studies which could prove that Halo Sport improves physical skills of its users.[8][7][12] Although the experiments in these studies were carefully designed with respect to placebo effect, these studies were not peer-reviewed.[27]
Ethical & Health Issues
According to Halo Sport's "Terms of Service", the device should not be used by person who is under 18 years of age, is not capable of giving consent, is pregnant, has implanted other medical device, has skull defects or history of seizures.[28]
Besides a great amount of studies, tDCS technology on which is based Halo Sport it is not certain that tDCS is not harmful.[6] Sarkar, Dowker and Kadosh's experiments suggest that tDCS could have a negative impact on human cognitive abilities. Namely, they claim that the individuals in experiments show decrease in executive control in a flanker task. They argue:
Another important finding is that tDCS effects may be associated with cognitive costs in other domains. Poorer executive control in a non-mathematical, nonanxiety-inducing task after real compared with sham stimulation suggests that tDCS, while advantageous in certain contexts, may impair processes dependent on the stimulated region.[29]
The similar results were also published by Teresa Iuculano and Roi Cohen Kadosh, who point out that enhancement of certain cognitive ability could impaired other cognitive abilities.[30]
Amol Sarva reports that a wrong placement of electrodes could be harmful as he found during the initial tests of their new device:
"I turned it on and there was this bright flash and then I was basically blind," he told me. The test had sent a direct blast into his optic nerve. "Luckily it cleared up after a few minutes," says Sarva. "We're much better informed now about which parts of the brain we need to stimulate."[31]
Nonetheless, the position of electrodes is settled in the device they shipped.
In addition, the inventors of Halo Sport claims that they focused on the most widespread problems linked with tDCS as headache, scalp pain, or impairment of motor or cognitive skills, but they did not found any significant change.[16]
Other issue is the possibility that tDCS stimulation of motor cortex could be considered as a doping. However, no public policy against tDCS devices has been stated yet. WADA (the World Anti-Doping Agency) and the International Olympic Committee are still considering whether these kind of devices should be prohibited and collect information about them.[32] Eliza Strickland reports Olivier Rabin's claim:
WADA's science director, says his team is "very actively monitoring" brain-stimulation technologies, and recently discussed whether tDCS and similar techniques warranted inclusion on the prohibited list. Their verdict: It's not yet time to make that decision. "At the moment, our experts consider that there is a lack of objective information about these technologies," he says. First, Rabin says, he'll need to see scientific proof that tDCS does enhance athletic performance. And he's not holding his breath. In his 14 years on the job, he's seen plenty of hyped technologies that don't pan out, he says. But if tDCS's benefits are verified, WADA will judge the technology on two other criteria: whether it risks the health of the athlete, and whether it violates "the spirit of sport." A positive finding in either category is grounds for a ban.[33]
Public & Media Impact and Presentation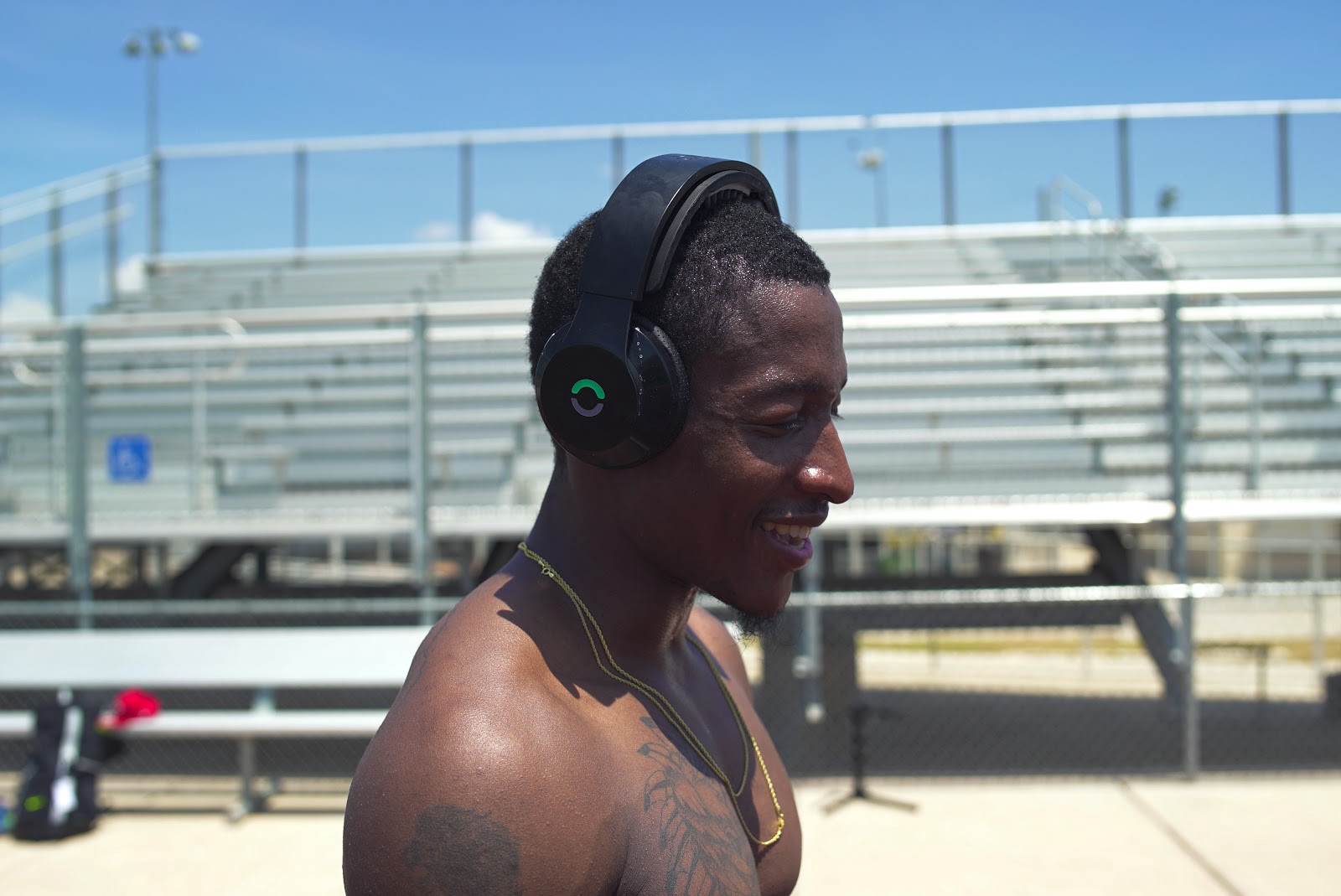 Daniel Chao and Brett Wingeier worked together in NeuroPace on the RNS® System device. However, Chao claims that they wanted to develop a device which could affected more people and which installation would not be so invasive. "Our NeuroPace device was an elegant way to manipulate neurons, but barbaric to install," he says. "Brett and I thought we could do better."[6] Therefore, they founded with Amol Sarva Halo Neuroscience.
Chao and Wingeier's aim influenced also the initial years of their company. Instead of development of a new devices, they run studies in order to find which kind of tDCS is the most promising. They found out that the data gained by a stimulation of motor cortex fulfil more proprietary their expectations. As Chao claims:
After testing 1000 subjects, the data from studies on motor skill and strength consistently yielded impressive and reproducible results — not just in untrained volunteers, but also in highly trained competitive athletes. These results lead to the development of Halo Sport...[2]
Halo Neuroscience successfully reached funding from renowned investors as Marc Andreessen, Reed Hundt or Susan Paley.[24]
There are still doubts whether tDCS is really effective.[33] Regarding Halo Sport, the user gi67 at Reddit points out that Olympians who declared that they had used Halo Sport during their training, did not significantly succeed in Olympics games: "Did tDCS enhance training? Maybe, maybe not. But no outstanding performance could be attributable to tDCS."[34] However, the user ohsnapitsnathan claims: "I think it's quite possible that tDCS use is actually much more widespread than this group and many athletes are just quiet about it because of the stigma of using "performance enhancing" technology."[35] However, choosing motor cortex stimulation, Halo Neuroscience focused on tDCS which is deemed to be reliable and results measurable.[33]
Additionally, Gian Volpicelli points out in his paper from 21st March 2016 that studies which was published by Halo Neuroscience have not been peer-reviewed yet. Although he admits, that it is just a matter of time.[36]
Public Policy
WADA or the International Olympic Committee have not provided any conclusive claim about tDCS devices yet.[32]
Chao claims that they will seek for FDA approval of their device in order to help stroke victims to recover motor skills.[6]
Related Technologies, Projects, or Scientific Research
Chao and Wingeier developed previously another device which provides brain stimulation, RNS® System.
The researchers claims that they have two aims in the future. Firstly, they intend to reached FDA approval for the treat of stroke and recover the motor skills of patients. Secondly, they focus also on the cognitive enhancement through tDCS.[6]
Halo Neuroscience provides several studies as a support of the technology, which took part in various sport organisations.[37] [38]However, as was stated previously, independent peer-reviewed research and more studies is needed for any conclusive claim about the device.[36]
References