Heddoko
Jump to navigation
Jump to search
Heddoko is a smart compression garment developed by the Heddoko company (Japanese for "coach"). The clothes are equipped with built-in sensors, which monitor and capture the user's positions, velocity, acceleration and movement in 3D. The garment is paired with a mobile application, which is capable of visualizing the recorded 3D movement and provides the user with feedback in real time, effectively serving as a personal "coach". The application also collects the data and uploads them to the cloud in order to be analysed by artificial intelligence. The gathered information is then made available through Heddoko's web application, which can be of use for real-life coaches. Over time, user's profile can be created, enabling the monitoring of progress, comparisons to other users and additional services. Not yet available to general public.
Main Characteristics
The Heddoko suit contains multiple fabric sensors developed by StretchSense (Auckland, New Zealand), which are incorporated into the textile of the garment. The fabric sensors are capable of changing their capacitance according to the deformation of the fabric when it becomes stretched and also have a sewable 'dead zone' around the edges, so that they may be sewn into garments without damaging the active sensing area. [2] Therefore, the garment is capable of measuring motion in multiple axes without causing noticeable reaction pressure. Furthermore, the sensors are connected to an electronic module, which in turn transmits data in real-time to the companion application. With the range of 50 m and utilisation of Wireless Bluetooth Low Energy (LE) connection (transmission of sensor data is 50 Hz), Heddoko is able to work with applications demanding low-power operations and the battery life is estimated around 4 hours of continuous tracking. [3] Thanks to the internal memory in the battery pack, the option for offline usage and data collection is available, as the data can be downloaded and analysed later. [3] In addition, the product is washable.
The Heddoko mobile companion application can be used for visualization of the monitored 3D movement and to access coaching feedback. After user's profile creation, the application can be set-up to take into account any previous injuries or disabilities, offering preloaded sequences of exercise routines (including cross-training, warm-ups and stretching), an option for audio feedback and more personal preferences for customization. It is also capable of identifying the user's skill level in various specific sports and consequently adapts tolerance thresholds for accuracy measurement.[3] The gathered data are transmited to the artificial intelligence for analysis. Following metrics are gathered automatically: movement accuracy, speed, position over time (joint angles), force (as applied to joints), completion rate of routines and risk of injury (based on quality of movement, repetitions and velocity).[3]
The archived and analysed user data are accessible through Heddoko's Web dashboard on-line support, which gives users the ability to review their performance and working plans and also serves as knowledge and information-base for real-life coaches and their teams. In addition to other statistical features, the system offers comparisons to other users' averages and enables the creation of personal goals, which can be used for motivation and continuous improvement.[3]
Purpose
Heddoko is a smart garment that continuously tracks user's body movement in 3D. Through linked companion application it guides the user to achieve better performance in sports, tracks vital signs and can help with injury prevention.
Company & People
Heddoko was founded in May 2014 in Montreal, Quebec. The founder, Mazen Elbawab is an experienced developer from the gaming industry and motion capture. [4]
Mazen Elbawab - CEO / Founder
Alexandre Fainberg - COO / Co-founder
Jonathan Olesik - Chief Engineer
Diana Horqque Ratto - Lead designer
Lisa Zane - Marketing and Biomechanics Lead
Adel Alouani - Design Engineer
Sara Feliciano Rashidi - Fashion Designer
Shahab Forghani - Project Manager
Francis Amankrah - Research Engineer
Alessandra Mantovani - Designer
Karla Urbano - Marketing Analyst
Anuj Awasthi - Design Engineer [5]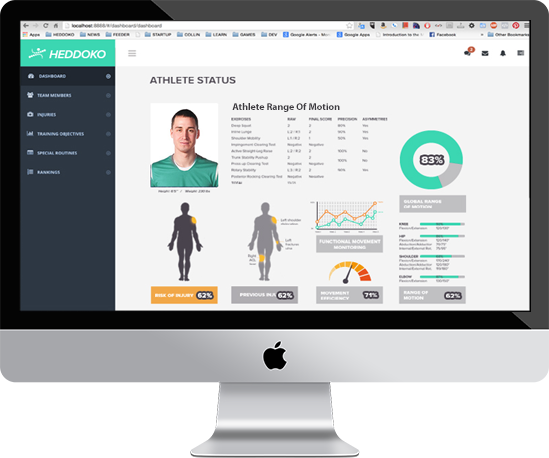 Important Dates
Ethical Issues
According to Angela McIntyre, research director of an analyst firm Gartner, the ability of smart garments to gather and archive various user's data will raise privacy issues over rights to access data generated by these devices. She said, "The companies producing the shirts and providing the online accounts for tracking that data will have access to it and they — as companies do with our credit-card statements and other types of personal data — will be able to sell or barter this information on to insurance companies or healthcare providers and marketers as well as employers." Furthermore, she continued, "People will perhaps feel they will need to gain more control over where their data goes and be very cognizant of who's getting access to seeing that data and make choices among providers based on the privacy of that data or their ability to control who it's sent to." [9]
Health Risks
Although the Heddoko suit aims to prevent sport-related injuries and the final product is yet to be introduced, it might share some common potential health risks with other wearables. The main difficulties might arise from possible allergies to the suit's fabric, or from the long-term and continuous wireless transmissions emanating from sensors, which cover user's whole body. Such transmissions might interfere with certain integrated medical devices or implants of the user (such as cardiac peacemakers). [10]
Enhancement/Therapy/Treatment
The Heddoko smart garment might have a range of possible applications. It can be considered as an enhancement, as its primary function is that of a sport "coach". It can potentially contribute to user's physical fitness and thanks to optional features provided by its companion applications, it can also aim to strengthen user's will and determination by establishing motivational goals or providing statistical comparisons. The garment's ability to help in prevention of injuries during sport and exercises by providing individualised coaching programs can also be classified as treatment. Additionally, the suit's ability to capture user's movement in 3D can have various potential uses in fields beyond sport-related activities, some of which could be applicable in physical therapy and rehabilitation.
Public & Media Impact and Presentation
According to forecasts, the global market with wearable fitness devices is on the rise and will continue to expand with 26 million shipments of smart garments predicted for 2016. [9] With smart garment devices gradually gaining in popularity [9], the Heddoko project received attention by a number of online press media dedicated mostly to sport and technology [11] [12] [13] [14] and was featured also in the news of Daily Mail UK [15]. The media concern themselves mostly with Heddoko's technology, with overall positive attitude towards the product, pointing out it's possibly advantageous applications for users. Little to no direct negative criticism of the garment in its current (unreleased) stage exists. Heddoko also received notable attention of the public following the Ubisoft Montreal's (video game industry company) announcement of acting as a "mentor" to the project.[6]
Public Policy
There is no legislation concerning Heddoko smart garment at the moment. However, some policies regarding gathering and storing of user's data may apply.
Related Technologies, Projects, or Scientific Research
The sensors integrated in the Heddoko smart garment are manufactured by StretchSense, which is the developer of various sensor types with applications in smart garments technology and also robotics, including stretch, bend, pressure, shear and custom sensors. [16]
References