Mimobaby
Jump to navigation
Jump to search
Mimo is the first "in-market"[4] smart wearable baby monitor, developed in the USA by Rest Devices, Inc.[1] Electrical conductors - built into infant onesie - can provide data about body position, breathing and skin temperature of baby.[2]
Main Characteristics
Mimo is an onesie for babies that includes sensors for monitoring baby's respiration, blood pressure and temperature. These data are transmitted from the sensors to a base station nearby and ultimately into the cloud, where it can be seen on any mobile device, as well as shared between parents and caregivers.[5]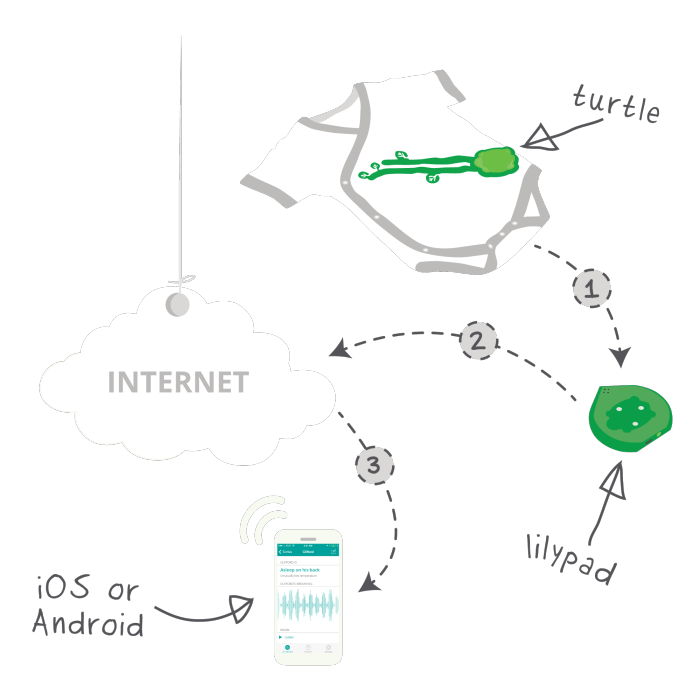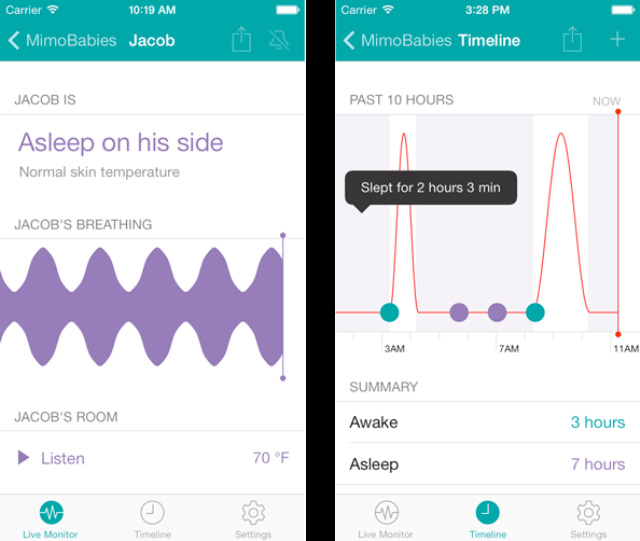 Mimo consists of:[6]
Cotton kimono (which includes electronic sensors)
Bluetooth transmitter (in the shape of a turtle)
Wi-Fi and charging base station (in the shape of a lilypad)
1) The "turtle", fixed on the kimono by magnet, collects data about breathing, body position and skin temperature from sensors and sends these data to "lilypad".
2) Lilypad streams data and live noises to the "cloud".
3) Through the Mimo app, parents can check these data on their smartphones
This device is directed to a very specific marketing segment - care of newborn infants. The company (Rest Devices, Inc.) wants to develop more technologies for innovating smart baby monitoring: "The company has been focused solely on the "baby space" since, with plans to develop more technology to fill out its "Nursery 2.0" product line"[1] (which is clearly reference to Web 2.0), i.e. ultimate aim for Mimobaby and other smart baby monitoring technology is to provide a complete set of products that are connected together by its "cloud nursery system"[1]: "We want to build a series of products around eating, sleeping, activity, and mobility that are all built on one platform"[1]
Smart baby nursery doesn't use any new or revolutional technology so far, but it uses already existing technology in a new innovative way. They are already connected with the Nest product[7] such as Nest learning Thermostat and Nestcam.[8] The company is also trying to build up connection among parents and created a community around smart baby nursery: "[...] the company hopes to add a social component that would allow parents to provide insights to other parents about their sleep strategies."[1] The next product is going to be a smart bottle warmer, which will connect with the sleep prediction feature and automatically warm up milk as soon as a baby shows that it is getting restless.[9][10]
Purpose
This device keeps parents connected with their babies no matter where they are. Mimo can track whether babies are sleeping properly and gives parents insight about their baby´s sleep quality.
Company & People
Dulcie Madden - Co-Founder & CEO
Carson Darling - Co-Founder & CTO
Thomas Lipoma - Co-Founder & CTO
Mike Gutner - COO & Mimo Dad
Katy Gero - Engineer, Algorithm
Ben Shaya - Engineer, Electronics & Firmware Design
Marie Mostad - Creative Director
Important Dates
Enhancement/Therapy/Treatment
Mimo improves human cognition by allowing parents to "sensor" infant newborns better then without smart nursery (more precisely even without their presence near their baby).
Ethical & Health Issues
The main issue is connected with the health risks. Mimobaby is wearable device, which is supposed to be near the body of the newborn for a long period of time. Question is, whether any electronic device, which emits signals, is really safe to put in such close contact with the newborn.
For example specific absorption rate (SAR), is a debated issue[11], especially in the area of wearable devices, yet proper studies on the harmful effect are inconsistent[12] or even non-existent (especially in case of newborn).
There have been no health issues noted with Mimobaby so far. "The kimono is made of soft cotton with respiration sensors pressed to the top of the kimono, keeping anything from touching baby's skin."[5] However, some general issues connected to wireless electronic devices in general still apply.
The company uses the technology, which has the lowest "risk potential" - low-power bluetooth transmitter:[13] "Mimo uses ultra low- power Bluetooth Low Energy, which is lower power than a standard audio monitor or your smartphone."[5]
Christopher P. Bonafide and his colleagues point out that real efficiency of wearable technologies for babies has not been examined profoundly yet. Consequently, the accuracy of the sensors used by these technologies was not proven. The false alarm, which inaccurate sensors may cause, could lead to anxiety in parents. The accuracy of devices was not examined, since the devices are not regulated by FDA. The researchers, however, conducted their research with different devices, namely MonBaby, Baby Vida and Owlet.[14] When this research was published at Wareable, the journal illustrate this paper using the picture of Mimobaby.[15]
Public & Media Impact and Presentation
Media impact is mainly in the USA. Mimobaby received attention by a number of online media[16][17][18][19][20]
One of the main issue is that Mimo is considered medical device, which can prevent tragic situation: "[...] the Mimo can track whether babies are sleeping properly, preventing the rare and tragic situation known as SIDS, or Sudden Infant Death Syndrome."[9] And further: "The Wi-Fi connected Mimo is a practical peace-of-mind solution for any parents worried about dreaded SIDS and other infant-related conditions."[21]
But these notions about Mimo (practical "peace-of-mind" solution for any parents worried about dreaded SIDS, ect) seems to be wrong even according by Rest Devices, Inc. itself: "THE MIMO BABY MONITOr SYSTEM IS NOT A MEDICAL DEVICE,[...], AND IS NOT DESIGNED TO DETECT OR PREVENT CAUSES OF SUDDEN INFANT DEATH SYNDROME (SIDS)."[22]
Public Policy
Mimo is neither regulated nor approved by the U.S. Food and Drug administration. Mimo is not a medical device and can not prevent or even detect causes of Sudden infant death syndrome (SIDS)[22]
Related Technologies, Projects, or Scientific Research
There is no scientific research concerning Smart Baby Nursery. Hovewer, some general research connented to wireless electronic devices (especialy bluetooth) may apply.[13]
References