Motorola Moto 360
Jump to navigation
Jump to search
The Moto 360 is a type of smartwatch made by Motorola Mobility and the first generation was released in September 2014. It is based on the Android Wear operating system.
Main Characteristics
The Moto 360 works with single core TI OMAP 3 processor with the frequency of 1GHz and the processor runs with 512MB RAM capacity. Android Wear operating system provides the connection of smartwatches with all Android based devices using at least Android 4.3 version. Google company also added support of iOS operating system. Connection between the devices is based on Bluetooth 4.0. However, Wi-Fi support is included then Moto 360 can be connected even out of the Bluetooth range. [8]
Battery in the watch is an all day battery with 320mAh. Charging cable is not needed because Moto 360 charges mainly wirelessly through the special charging platform. Included features such as accelerometer and heart-rate monitor provides monitoring of customers activities and health. The watch is also equipped with dual microphones able to provide voice recognition. [9] [10]
Type of display the Moto 360 uses is IPS LCD display (backlit LCD). It is also equipped with ambient light sensor and that means it is able to adapt the display brightness. Resolution of the display is 320 x 290 in the first generation and 360 x 330/360 x 325 in the second generation. [11]
The shape of Moto 360 is round and it is made to look like a proper watch. There is also wide range of options how buyers can customize the appearance of their device (multiple case sizes, finishes, bezels and bands). Design of the watch is really different in comparison with most of smartwatches on the market. However, lately there appeared new competitor in the field of design for Moto 360. The competitor is Huawei Watch which appearance is more or less similar. [12]
In September 2015 Motorola released second generation of Moto 360. The watch underwent improvement of procesor to quad core Snapdragon 400 with 1.2GHz. Battery was also changed and now it has 400mAh. Second generation of Moto 360 is available in three different versions - Men's, Women's and special outdoor version. [13]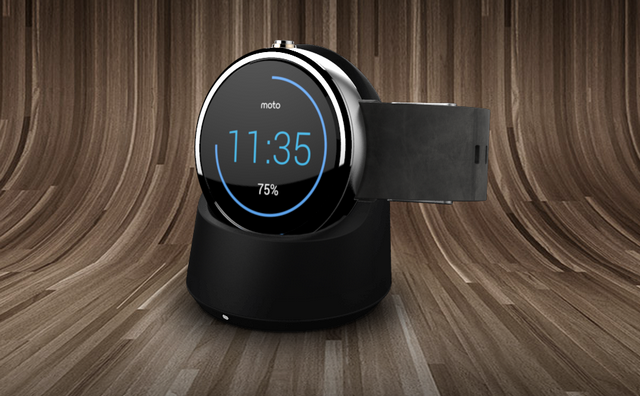 Purpose
Moto 360 is device capable of bringing customers informations they need anytime, also works as a substitute for smartphone. Various set of functions helps users with everyday problems and it also provides all day connection with people.
Company & People
Motorola Mobility LLC is a company which is settled in Chicago, USA.[14]
Rick Osterloh - President and Chief Operating Officer
Iqbal Arshad - Senior Vice President, Hardware Engineering & Global Product Development
Seang Chau - Senior Vice President, Software Engineering
Adrienne Hayes - Senior Vice President, Marketing and Communications
Kouji Kodera - Senior Vice President, Product Management
Scott Offer - Senior Vice President, General Counsel
Susan Waldman - Vice President, Human Resources
Jim Wicks - Senior Vice President, Consumer Experience Design
Amy Stanton - Chief of Staff, CVP Program Management & Portfolio Operations[15]
Important Dates
First generation
Announced in March 2014 [16]
Released on September 14th 2014 [17]
Starting price = 250 USD (2.9.1015) [18]
---
Second generation
Released on September 15th 2015 [19]
Starting price = 300 USD (2.9.2015) [20]
Ethical Issues
There has not been recorded any ethical issues about the Moto 360.
Health Risks
No serious research on health risks of Moto 360 and any other smartwatches was made. In March 2015 The New York Times released and article called The Health Concerns in Wearable Tech but no proven risks were confirmed with those kind of wearables (smartwatch - Moto 360). [21] [22]
Enhancement/Therapy/Treatment
Purpose of Moto 360 is not to provide medical aid or to work as a medical aid. There is a possibility to monitor your physical activity during the day and thanks to that control your activity. However, it works more as a lifestyle device with possibility of enhancement users actions through the day.
Public & Media Impact and Presentation
Moto 360 had a huge media attention before and after its release. The same media attention was brought also with the second generation of the smartwatch. The aim was to introduce a high quality, stylish product with a lot of options for customization. In propagation field Motorola focuses on high quality components from which Moto 360 is made of and also on mentioned options of customization through which users can be original owners of these smartwatch. [23] The second generation brought even larger options how to customize Moto 360.
However, two important aspects have been criticized. First the usage of an old TI OMAP 3 single core 1GHz processor, which could time to time cause lags of the system. Nevertheless, the second generation came up with inovated different processor Snapdragon 400 quad core 1.2GHz. Second issue was the longevity of battery. In comparison with other smartwatches on the market the not even day lasting battery life was disappointing. [24] [25] However, Motorola announced that with the second generation the problems with longevity of battery will be solved. [26] [27]
As Moto 360 is not the only smartwatch on the market there are more competitors for Motorola. Most important of them are: Huawei Watch [28], Samsung Gear Live [29], Samsung Gear S2, Asus ZenWatch 2 [30], Apple Watch [31] and Pebble Steel. [32]
Public Policy
All Motorola Mobility products have to be made according to multitude of legislation which includes for example health legislation and lot of material concerned legislation. Those legislation might be both local and also global. [33]
Related Technologies, Projects, or Scientific Research
There is no scientific research or project i process right now in connection with Moto 360.
References