OrCam
Jump to navigation
Jump to search
OrCam is a mini camera that can be attached to any pair of regular glasses (prescription or sunglasses) by a small magnet. It features a bone conductor speaker. A thin cable connects the camera to a pocket-sized computer equipped with rechargeable battery, audio jack, button interface and gestural interface. The device is advertised to help visually impaired people to recognize objects, and even other people's faces, and then tell the user what he is looking, or pointing, at. It also stores visual information of various objects and users are free to add more to the library.[5]
Main Characteristics
There are no detailed technical specifications available at the official website. But various news pieces informs that the device uses a 5 Mpx camera and has up to 6 hours of continuous usage time before it needs to be recharged.[6] The recognized text/scene is described by a computer generated voice and delivered via a bone-conduction earpiece.[7]
Purpose
Lifestyle and health applications. The device is aimed at helping people with visual impairment. In the future, OrCam wants to further enhance the recognition abilities of the device's camera and software so it' is able to recognize and inform the user about his surrounding even better. This includes the ability to recognize places familiar to the user or outdoor signs.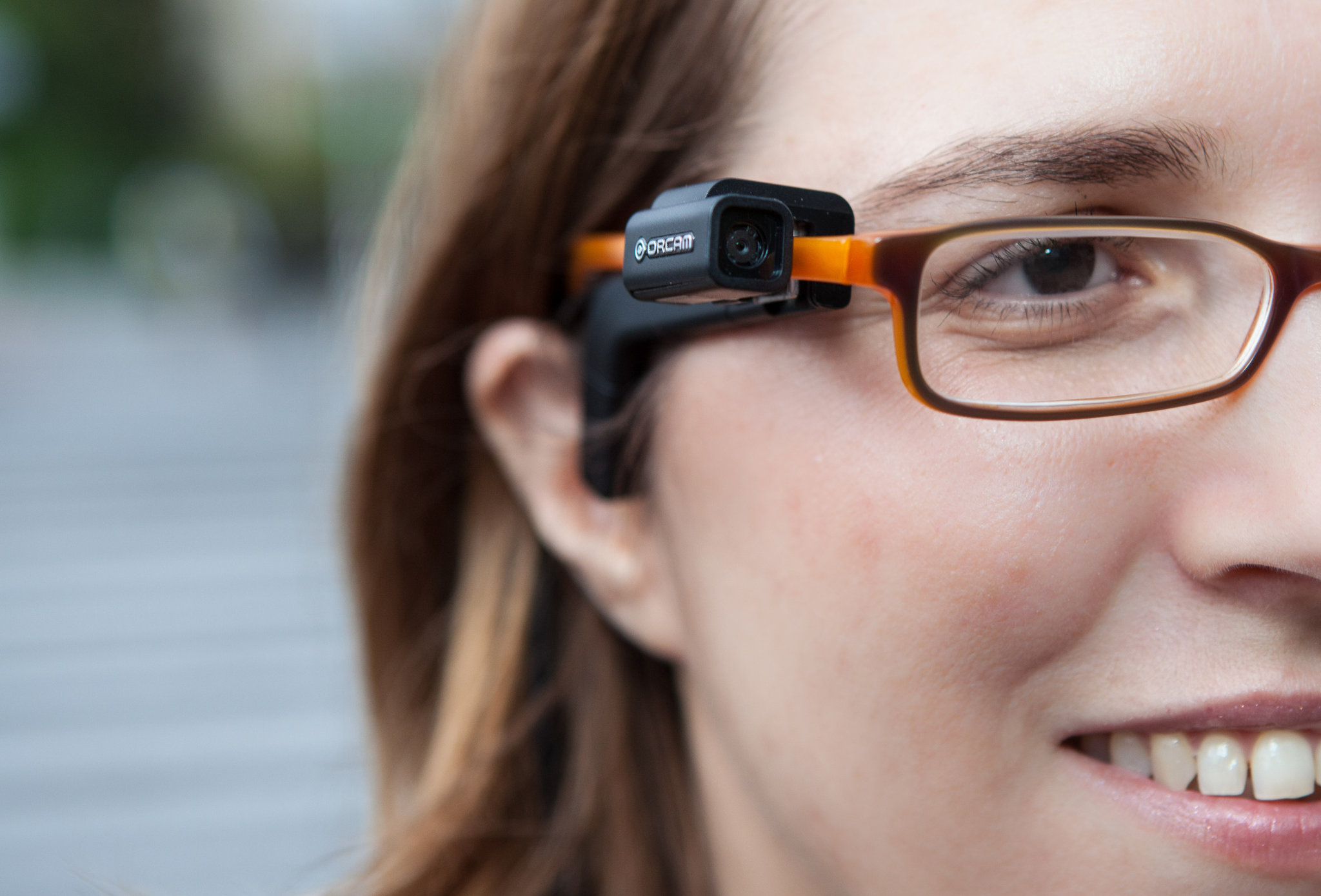 Company & People
OrCam is a privately held company founded in 2010. Its headquarters are in Jerusalem, Israel. The mission of the company is to provide visually impaired people with artificial vision.[8]
Management:
Ziv Aviram, Co-Founder, President and CEO
Prof. Amnon Shashua, Co-Founder, Chairman of the Board and CTO
Dr. Yonatan Wexler – Senior VP of R&D
Ram Ben Yehuda – VP of Sales, Marketing and Operations
Technology Team Leaders:
Efrat Bartov-Be'ery – Project Manager
Oren Tadmor – Product Recognition Team Leader[9]
Important Dates
OrCam was first showcased at the 2013 Israeli Presidential Conference.[10] The first shipment of the device was announced for September 2013[11], but it has been available for pre-order since June 2014 via the manufacturer's website.[12]
As of January 2016, the device is currently available only is the United States, Canada, United Kingdom, Israeal and works for English language texts. OrCam company plans to add additional regions and languages supports in the future.

Ethical & Health Issues
There are no ethical nor health issues relevant to this specific device.
For more general issues connected with smartglasses, please see the Other Head-mounted Devices synopsis.
Enhancement/Therapy
Therapy. The device is used to aid people with vision impairment or otherwise impaired ability of visual recognition. The camera and the software are able to recognize text the user is pointing at, and read it aloud. It can also recognize people's faces and objects.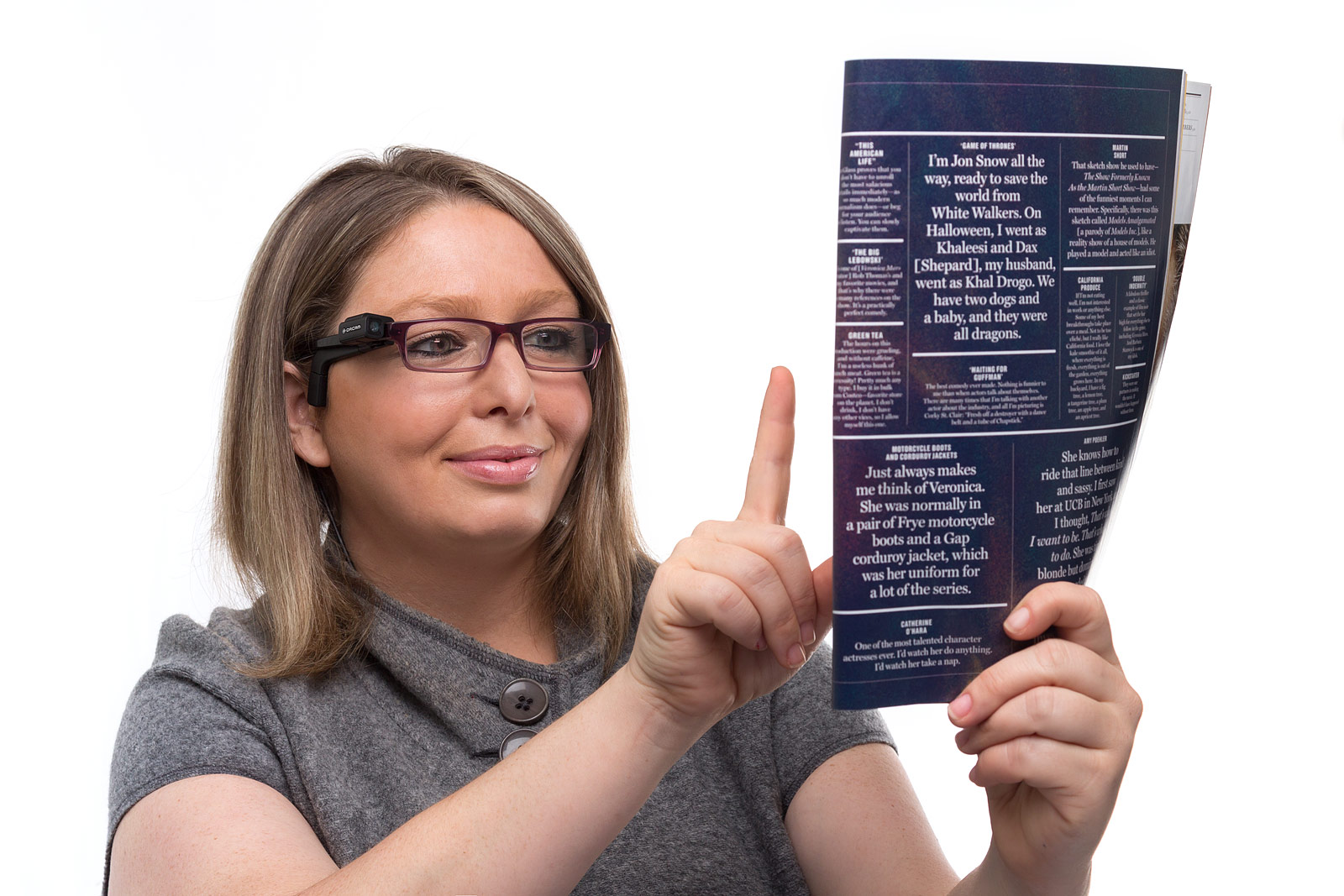 Public & Media Impact and Presentation
CNN Money released a video about the device. In it, a legally blind OrCam user Howard Turman talks about his experience with the device. He said he was able to read New Your Times newspapers for the first time in 30 years and described his experience to be similar to what "a kid who got his first toy" feels. CNN also makes a small review of the device. It praises how the device help visually impaired but mentions the bulky cable and the inaccuracy of the text recognition in bright daylight.[13] In an article on Israel21c, Yonatan Wexler of OrCam R&D, states that a new user can learn to use the device in about a minute.[14]
Other news pieces about the device do not give any assessment of the features.
Other related news can be found on the official web site.[15]
Public Policy
There is no public policy that considers this device specifically.
For more information about policies related to smartglasses, please see the Other Head-mounted Devices synopsis.
Related Technologies, Projects, or Scientific Research
There are no related research articles about the device.
OrCam Technologies, Ltd. holds several patents to the technologies used in OrCam.[16]
References