Sony SmartEyeglass Attach
Jump to navigation
Jump to search
Sony's Single-Lens Display Module known as SmartEyeglass Attach is an augmented reality module that can be easily attached / detached to any kind of glasses and thus used only when needed. The right side display arm consists of optical unit, OLED display, and control board with embedded wireless LAN and Bluetooth, processor, and sensor hub.[3] In its initial stage, the company is targeting the module's sports applications, but there is a great potential of using the module in work environment and for entertainment.
Main Characteristics
The display unit has a 640 x 400 High-Resolution Color OLED display with 10,000:1 or more contrast ratio and RGB with 24 bit colour depth display colour. The embedded sensors include electronic compass, accelerometer, and touch sensor. The device has an ARM Cortex-A7 Processor, Bluetooth and WiFi connectivity. The approximate weight of the device is 40g (display arm 22g and secondary arm 18g).[3]
The 0.5cm high screen appears in the top right corner and does not obscure the wearer's frontal field of vision. Although the module prototype presented at CES 2015 did not have a battery included and was connected by power cable instead, the final product will have the 400mAh battery housed in the left arm of the device. The module is waterproof, which makes it convenient for using when sweating or for water sports, although it is not yet clear whether they can work underwater.[4]
With the announced open source software developer kit (SDK), the developer community will be able to create apps and find new uses of the device.[3][4] Sony's official website states that the apps can be uploaded directly onto the device and allow it to work independently of other hardware or they can be uploaded onto a smartphone which connects wirelessly to the device.[3] However, one of the reviews says that the module is not independent and needs to be connected to a smartphone.[5] This may be due to the difference in the prototype tested by the reviewer and the final version of the product Sony has in mind.
Purpose
Sports (running, tennis, golf, cycling); navigation; potential use in work setting.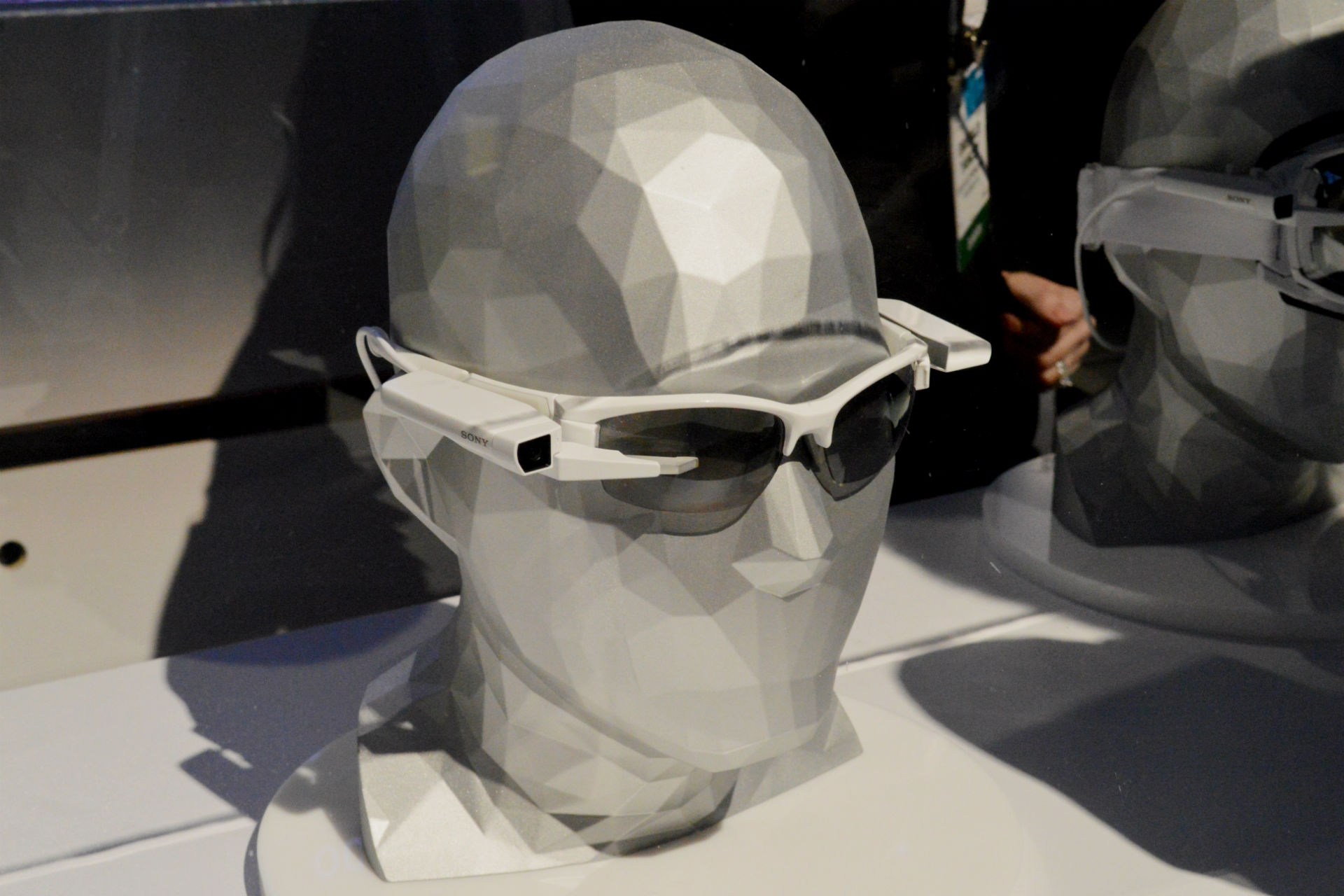 Company & People
Sony Corporation was founded on May 7, 1946. It is a multinational conglomerate corporation headquartered in Tokyo, Japan.
Representative Corporate Executive Officers: Kazuo Hirai, President and CEO; Kenichiro Yoshida, EVP and CFO.[6]
Important Dates
Release date was announced for 2015.
Ethical Issues
Health Risks
Enhancement/Therapy/Treatment
Public & Media Impact and Presentation
Unlike SmartEyeglass, SmartEyeglass Attach has received highly positive reviews for its lightweight and unobtrusiveness in terms of the module's design, its mass appeal, and the display's functionality. The prototype comes with issues to be solved such as integration of the battery, making the module an independent device, developing more apps, and further miniaturisation. Overall, the device seen as a potentially successful consumer product.[4][5][7][8][9]
Public Policy
Related Technologies, Projects, or Scientific Research
References
↑ 3.0 3.1 3.2 3.3 Sony Announces the Development of a Compact, Lightweight Single-Lens Display Module with OLED Technology That Enables Superior Image Quality. News Releases, Sony Corp. [online]. 2014, Dec 17. Available online at: http://www.sony.net/SonyInfo/News/Press/201412/14-118E/ (Retrieved Jul 29, 2015)
↑ 4.0 4.1 4.2 BEAVIS, Gareth. Hands on: Sony SmartEyeglass Attach review. TechRadar [online]. 2015, Feb 18. Available online at: http://www.techradar.com/reviews/gadgets/sony-smarteyeglass-attach-1279116/review (Retrieved Jul 29, 2015)
↑ 5.0 5.1 ALLSOPP, Ashleigh. Sony SmartEyeglass and SmartEyeglass Attach hands-on review: Sony now taking pre-orders for SmartEyeglass Developer Edition. PC Tech Advisor [online]. 2015, Feb 17. Available online at: http://www.pcadvisor.co.uk/review/wearable-tech/sony-smarteyeglass-smarteyeglass-attach-hands-on-review-3593112/ (Retrieved Jul 29, 2015)
↑ Corporate Info. Sony Corp. [online]. Available online at: http://www.sony.net/SonyInfo/CorporateInfo/ (Retrieved Jul 29, 2015)
↑ CHARARA, Sophie. Sony SmartEyeglass Attach first look: This specs accessory has potential. Wareable [online]. 2015, Mar 2. Available online at: http://www.wareable.com/sony/sony-smarteyeglass-attach-first-look-this-specs-accessory-has-potential (Retrieved Jul 29, 2015)
↑ COLLINS, Katie. Sony's SmartEyeglass Attach! module makes any specs smart. Wired [online]. 2009, Jan 15. Available online at: http://www.wired.co.uk/news/archive/2015-01/09/sony-smarteyeglass-attach-hands-on (Retrieved Jul 29, 2015)
↑ ANDRONICO, Michael. Sony SmartEyeGlass Attach: Raising Your Dumb Specs' IQ. Tom's Guide [online]. 2015, Jan 8. Available online at: http://www.tomsguide.com/us/sony-smarteyeglass-attach-hands-on,news-20256.html (Retrieved Jul 29, 2015)