Spectacles
Jump to navigation
Jump to search
Spectacles are pair of smartglasses developed by Snap, Inc. (formerly Snapchat, Inc.). Unlike other smartglasses, such as Google Glass, Microsoft HoloLens, ODG Smart Glasses etc., however, Spectacles have only one and single purpose: they function exclusively as a supportive device for the other Snap, Inc.'s product, the Snapchat, an image messaging and multimedia mobile application. They are basically a pair of sunglasses connectable with the user's Snapchat account and equipped with a built-in camera capable of capturing 10-second short video clips that can be then shared via the Snapchat app.
Since they require the mobile app to fully serve their purpose, they are not standalone and need to be connected via Bluetooth or Wi-Fi to a smartphone running the Snapchat app. However, they do not require an immediate connection to the user's Snapchat account when recording the videos. The Spectacles are capable of storing the recorded video clips offline, and the user can view and share them via the app later.
Spectacles were announced on 23 September 2016 during Snap, Inc.'s rebrand from Snapchat, Inc., and were released shortly after on 10 November 2016. They had been originally distributed exclusively in the United States of America via Snap, Inc.'s pop-up vending machines, called Snapbots, for $129.99. Since 20 February 2017, they became available for purchase online via Snap, Inc.'s official website for the same price, shipping also to the United Kingdom (for £129.99) and most (although not all) other European countries (for €149.99).
Main Characteristics
Snap's Spectacles are a one-size-fits-most stylish-looking sunglasses with a built-in camera on their top-right side connectable via Wi-Fi or Bluetooth to the Snapchat mobile app. Their top-left side of is equipped with a recording button and a circle of LED lights indicating that the device is connected to the app and/or recording, and also holds a battery, as well as a magnetic contact for recharging. There is also a red light situated on the inner left side of the glasses that lights up when the battery is low. Recharging is provided by the Spectacles' yellow case, which is able to fully charge the device up to four times before it itself needs to be recharged. According to the official information provided by Snap, the glasses are capable of capturing 100 Snaps (i.e. the 10-second short video clips) per one full charge. However, as reported by Matt Swider of TechRadar, "transferring video via Wi-Fi reduced that total by more than half", so it is "best to capture what you see in a single take and move on".[2] The full recharging of Spectacles takes about 90 minutes, and due to the placement of the recharging contact its is impossible to wear them and recharge them at the same time.[2]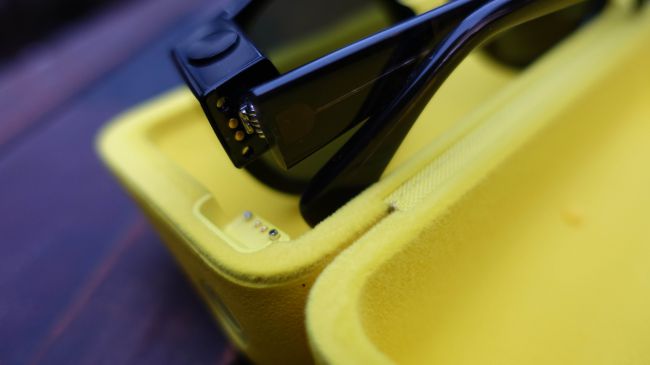 The camera has 115 degrees field of view, and is able to record Snaps either in a normal 704x704 resolution at the 29,97 frame rate, or in HD 1088x1088 resolution at the 59,97 frame rate.[3] Video clips are captured in a circular shape, the idea being that it mimics the human eye. This also means, however, that captured Snaps are best viewed through the Snapchat app. Exporting clips can be done rather easily, but they either result in a full circle video that has ugly white borders, or give a cut-off view flanked by black borders. As concluded by Matt Swider of TechRadar, "Spectacles really are meant for Snapchat".[2]
Spectacles are significantly different from all other available smartglasses design-wise. While the developers of the more sophisticated and elaborated smartglasses had to prioritize their function at the cost of their looks, the limited and simple function of the Spectacles allowed their developers to put more focus on their design. Thus, unlike other geeky-looking smartglasses, the Spectacles do not markedly differ from ordinary sunglasses, with the exception of the two yellow circles on their sides framing the camera and the LED lights. Otherwise, they resemble regular trendy shades with round lenses inside of a plastic frame, and they even come in three available colors: coral, teal, or black.[2]
Spectacles' lenses offer basic UV protection, to block harmful sun rays as well as impact protection to minimize damage from shallow drops. Unlike other smartglasses, however, the default lenses can be swapped with the help of a professional ABO-certified optician. Thus, the user can swap the default dark lenses with standard ones for a more comfortable use of the Spectacles indoors or generally in situations where wearing sunglasses might look awkward. Moreover, since Spectacles cannot be worn together with ordinary glasses, the original lenses can be even swapped with prescription lenses. There are very few opticians offering this service, however, due to the specific shape of the Spectacles' lenses. The only official optical service for Spectacles reported so far is Rochester Optical, offering normal lenses for $99, high-index lenses for $149, and polarized or photochromic lenses for $200.[4][5]
Purpose
Spectacles are smartglasses developed by Snap, Inc. that serve exclusively as an add-on for the Snapchat mobile app. They are simply a pair of sunglasses with a built-in camera that allows the user to connect with his or her Snapchat account, capture 10-second short video clips, and share them via the app.
Company & People
Spectacles are developed by Snap, Inc. based in Venice, Los Angeles, California. The company was originally named Snapchat, Inc. upon its inception (September 16, 2011), but it was rebranded on September 24, 2016 as Snap, Inc. in order to include the Spectacles product under a single company (the other product being the Snapchat mobile app).[6][7][8]
Important Dates
23 September 2016 - Spectacles were announced during Snap, Inc.'s rebrand from Snapchat, Inc.[10]
10 November 2016 - Spectacles were released and made available for purchase exclusively in the USA via Snap, Inc.'s pop-up vending machines, Snapbots[11]
20 February 2017 - Spectacles became available for purchase online via Snap, Inc's official website[12]
Enhancement/Therapy/Treatment
Since Snap's Spectacles come with a single purpose of capturing short video clips to be subsequently shared via Snapchat, they are intended mainly to improve the Snapchat user's experience. However, the Spectacles' design as an "always ready" device capable of immediately capturing short video clips "on the go" and storing them for future viewing and/or sharing can be helpful in many circumstances, so their utility extends far beyond mere entertainment.
Ethical & Health Issues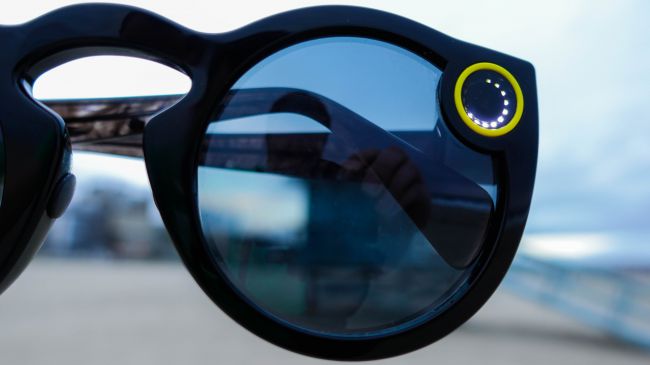 Snap's Spectacles might rise some privacy issues due to their ability of capturing video clips and sharing them online on-the-go. However, as written by Victoria Turk of Wired, "Snap has integrated several design features to make it clear when the Spectacles are filming. The main one is a circle of LEDs that light up when the camera is recording, which makes taking a video with Spectacles about as obvious as holding a phone up to snap someone's portrait".[13] Matt Swider of TechRadar concurs, writing:
The "recording in-progress" light ring animation is funky and reassuring. I've gotten comments from fellow tech journalists who have said, "If only the yellow circles weren't so obvious!" But hiding the recording status would only serve to make the Spectacles camera a source of contention, like Google Glass. This was the right design decision. "We're Snapchatters, not spies," was my retort.[2]
For other, more general issues connected with smartglasses, please see the Smartglasses synopsis.
Public & Media Impact and Presentation
Since their very announcement, Snap's Spectacles release had been enthusiastically awaited,[14] and after finally becoming available, they have received generally positive reviews.
Lexy Savvides of CNET rated Spectacles with the words:
"Do you use sunglasses? Do you like Snapchat? Then these are made for you. You actually film what you see and the battery lasts a loooong time."[15]
Matt Swider of TechRadar wrote in his in-depth review of Spectacles:
Spectacles are the hands-free way of better to telling your Snapchat story. Its 10-second video clips give your friends and followers a first-person account of your last 24 hours, and it takes advantage of all of Snapchat's fun ways to mark up your videos.

The fact that these are fairly normal-looking sunglasses – backed by a company that has already established that its GOAT coolness among teens – means the camera isn't that big of a privacy concern. It rights many wrongs of Google Glass.

Should you buy Spectacles now that they're available? That's a definite yes for Snapchat trophy seekers and score addicts, and anyone bent on being an early adopter. Just know that it won't cause you to suddenly fall in love with Snapchat if you've never been taken with the app before. It is, however, enough to act as a vehicle if you've waiting to learn the ins and outs of Snapchat.

With Spectacles, Snap has the power to do for first-person video what the front-facing smartphone camera has done for selfies. It's a Snapchat story worth following.[2]
Emily Cohn of Business Insider also rated Spectacles positively, writing:
It's amazing to be able to snap videos hands-free. I was able to film myself playing fetch with a dog while sipping rosé, thanks to the Spectacles. Now that is a feat. Their design is also so practical. The glasses charge in their own case, and they are easy to set up and use. It took me less than 5 minutes to start using my Spectacles after unwrapping them for the first time.[16]
She also adds, however, that it is a shame that Spectacles are not able to take photos, and that it should be made easier to share videos captured by Spectacles on other social platforms than just Snapchat.[16]
Joshua Vergara of AndroidAuthority wrote that Spectacles might be actually useful even for other users than just for Snapchat enthusiasts:
So, for a user like me that does not partake in the Snapchat social media frenzy, what use do I have for a pair of glasses that take video of my personal perspective? As a budding regular vlogger, I wanted a different way of getting footage of my experience for the videos that I share typically on YouTube.

[...]

I don't praise the actual Spectacles themselves – they're a gaudy looking, low resolution recording, attention seeking means to an end for a videographer like myself. But to the storyteller in me, the Snapchat Spectacles are the first kind of well-executed attempt at giving people the ability to share a unique perspective: literally, their own.[17]
Public Policy
There is no public policy that considers this device specifically.
For more information about policies related to smartglasses, please see the Smartglasses synopsis.
Related Technologies, Projects, or Scientific Research
Spectacles are designed to be paired with the Snapchat mobile app, also developed by Snap, Inc., the company behind Spectacles.
References
↑ Snap, Inc. [online]. Available online at: https://www.snap.com/ (Retrieved Jun 19, 2017)
↑ 2.0 2.1 2.2 2.3 2.4 2.5 SWIDER, Matt. Snapchat Spectacles review. TechRadar [online]. 2017, Jun 2. Available online at: http://www.techradar.com/reviews/snap-spectacles (Retrieved 2017, Jun 20)
↑ POULSEN, Anders. What is resolution and frame rate for Snapchat's spectacles? Quora [online]. 2017, Feb 14. Available online at: https://www.quora.com/What-is-resolution-and-frame-rate-for-Snapchats-spectacles (Retrieved 2017, Jun 20)
↑ MANNES, John. You can now wear Spectacles indoors with Rochester Optical's lenses. TechCrunch [online]. 2016, Dec 1. Available online at: https://techcrunch.com/2016/12/01/you-can-now-wear-spectacles-indoors-with-rochester-opticals-lenses/ (Received 2017, Jun 23)
↑ SEPPALA, Timothy J. Prescription lenses for Snapchat Spectacles start at $99 (update). Engadget [online]. 2016, Dec 1. Available online at: https://www.engadget.com/2016/12/01/prescription-lenses-for-snapchat-spectacles-start-at-99/ (Received 2017, Jun 23)
↑ OAKES, Omar. Snapchat rebrands to Snap Inc. Campaign [online]. 2016, Sep 26. Available online at: http://www.campaignlive.co.uk/article/snapchat-rebrands-snap-inc/1410021 (Retrieved Jul 4, 2017)
↑ JOHNSON, Lauren. CSO Imran Khan Explains Snapchat's Rebrand to Snap Inc. Adweek [online]. 2016, Sep 26. Available online at: http://www.adweek.com/digital/cso-imran-khan-explains-snapchat-s-rebrand-snap-inc-173719/ (Retrieved Jul 4, 2017)
↑ GEE, Rachel. Why Snapchat rebranding to Snap will take some of the pressure off. Marketing Week [online]. 2016, Sep 27. Available online at: https://www.marketingweek.com/2016/09/27/why-snapchat-rebranding-to-snap-will-take-some-of-the-pressure-off/ (Retrieved Jul 4, 2017)
↑ 9.0 9.1 9.2 9.3 9.4 Snap Inc.: CEO and Executives. Bloomberg [online]. 2017, Jul 4. Available online at: https://www.bloomberg.com/research/stocks/private/people.asp?privcapId=224055283 (Retrieved Jul 4, 2017)
↑ MOON, Mariella. Snapchat to release $130 camera-equipped Spectacles this fall. Engadget [online]. 2016, Sep 23. Available online at: https://www.engadget.com/2016/09/23/snapchat-spectacles/
↑ FLYNN, Kerry. Of course you have to buy Snapchat's Spectacles from a robot. Mashable [online]. 2016, Nov 10. Available online at: http://mashable.com/2016/11/10/snap-spectacles-buy/
↑ PALLADINO, Valentina. Snapchat Spectacles are now available to buy online for $129. Ars Technica [online]. 2017, Feb 20. Available online at: https://arstechnica.com/business/2017/02/snapchat-spectacles-are-now-available-to-buy-online-for-129/
↑ TURK, Victoria. I saw the world through Snapchat Spectacles for a day. Here's what I learned. Wired [online]. 2017, Jun 6. Available online at: http://www.wired.co.uk/article/snapchat-spectacles-europe-review (Retrieved 2017, Jun 23)
↑ STEIN, Scott. We tried Snapchat Spectacles -- here's what it's like. CNET [online]. 2016, Nov 11. Available online at: https://www.cnet.com/products/snapchat-spectacles/preview/ (Retreived 2017, Jun 23)
↑ SAVVIDES, Lexy. Snapchat Spectacles review: Oh Snap, Spectacles are ridiculously fun. CNET [online]. 2017, Feb 20. Available online at: https://www.cnet.com/products/snapchat-spectacles/review/ (Retrieved 2017, Jun 23)
↑ 16.0 16.1 COHN, Emily. I just got a pair of Snapchat Spectacles — and I have 2 major problems with them. 2017, May 1. Available online at: http://www.businessinsider.com/snapchat-spectacles-review-2017-5 (Retrieved 2017, Jun 23)
↑ VERGARA, Joshua. Snapchat Spectacles review. AndroidAuthority [online]. 2017, Feb 9. Available online at: http://www.androidauthority.com/snapchat-spectacles-review-735363/ (Retrieved 2017, Jun 23)