Toshiba Glass
Jump to navigation
Jump to search
Toshiba Glass is currently in prototype stage. Changes are expected before it becomes a finalized product for the market. The device looks like an ordinary pair of glasses with a tiny projector clipped on the side, which project images onto the reflective glass lens fitted into the frames. The image appears in the middle of field of vision.[4] The projector can be removed from the foldable frame. The device is connected to a smartphone by cable and draws information and power from it. This makes the device lightweight (42 grams) and comfortable to wear. It is not equipped with a camera. Applications for the device are still under development.
Main Characteristics
The developer made no technical specifications available so far.
Purpose
Industrial, retail, security, medical and healthcare use; entertainment, lifestyle, sports.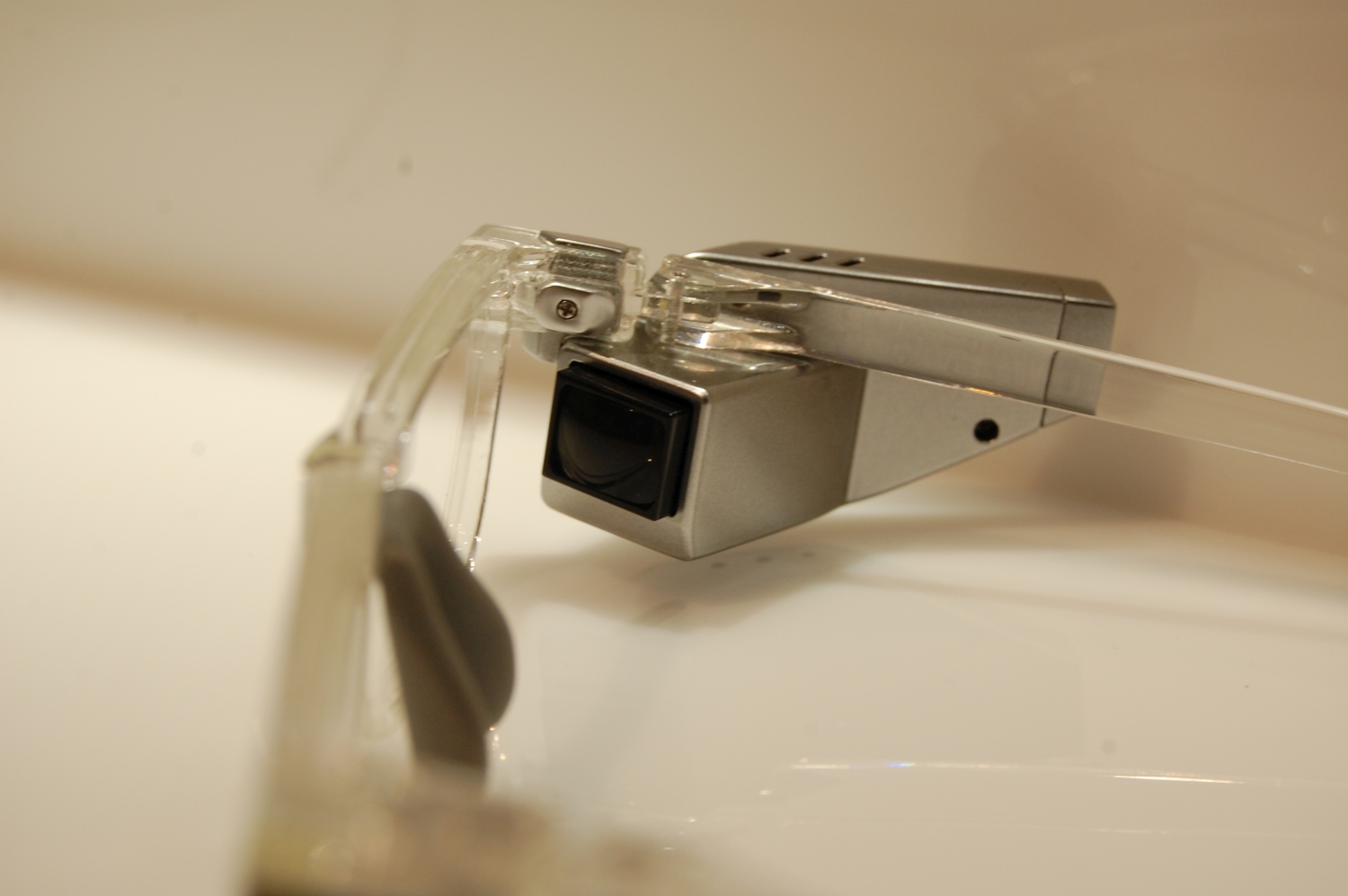 Company & People
Toshiba Corporation was founded in 1875. Its headquarters are in Tokyo, Japan, with offices worldwide.
President and CEO: Hisao Tanaka; Board of Directors: Masashi Muromachi, Chairman of the Board and Director; Norio Sasaki, Vice Chairman of the Board and Director;
Directors: Hisao Tanaka, Masahiko Fukakushi, Toshio Masaki, Keizo Maeda, Makoto Kubo, Hidejiro Shimomitsu, Kiyoshi Kobayashi, Naoto Nishida, Fumiaki Ushio, Seiya Shimaoka; Outside Directors: Hiroyuki Itami, Kiyomi Saito, Ken Shimanouchi, Sakutaro Tanino.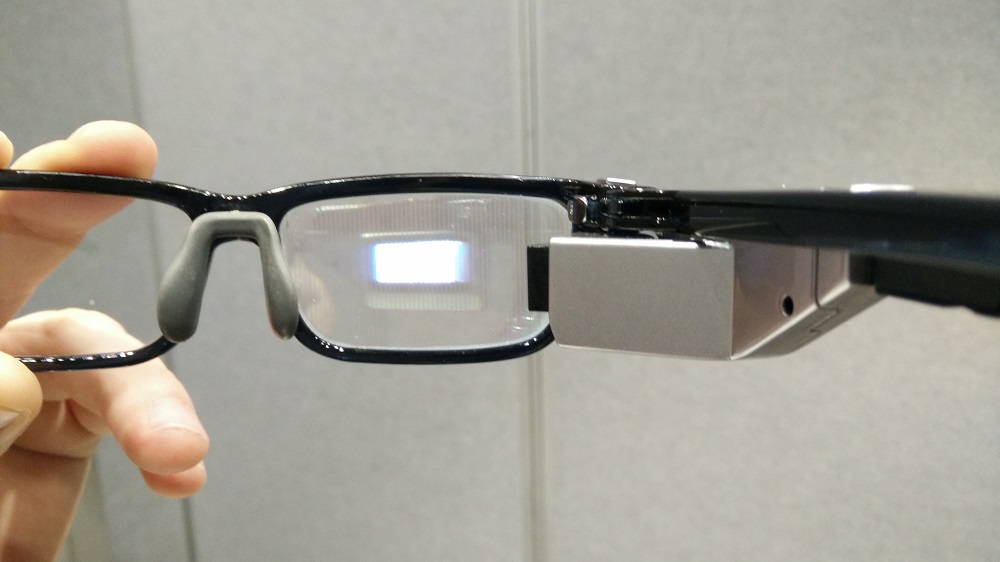 Important Dates
Prototype first presented at CEATEC Japan 2014, followed by CES 2015.
It won the Mobile Technology award at CEATEC Japan 2014.[5]
Toshiba announced the release of Toshiba Glass during the second half of 2015 only as a customized solution for enterprises.
The company plans to release a consumer version in the future, but the release date is not yet specified.
Ethical & Health Issues
There are no ethical or health issues connected to this particular device.
For more general issues connected with smartglasses, please see the Smartglasses synopsis.
Enhancement/Therapy/Treatment
Enhancement - Toshiba company market the device as a form of enhancement. The device is a "wearable terminal" that allow the user to access digital information and context-relevant data in applications such as retail, medicine, retail, security, activity tracking, and entertainment.
Public & Media Impact and Presentation
The existing reviews are based on Toshiba Glass demonstration at CEATEC Japan 2014 and CES 2015. The device is praised for being lightweight, for clear full-colour image, and design. Listed as shortcomings are cable connection to external device and lack of camera.[4][6][7]
Public Policy
There is no public policy that considers this device specifically.
For more information about policies related to smartglasses, please see the Smartglasses synopsis.
Related Technologies, Projects, or Scientific Research
There are no related projects or research relevant to this device specifically.
For more information about this type of devices, please see the Smartglasses synopsis.
References
↑ http://www.pcadvisor.co.uk/review/wearable-tech/google-glass-vs-sony-smarteyeglass-vs-toshiba-glass-3593995/
↑ 4.0 4.1 ALLSOPP, Ashleigh. Toshiba Glass hands-on review: Toshiba's first smartglasses aim to take on Google Glass. PC Tech Advisor [online]. 2015, Jan 8. Available online at: http://www.pcadvisor.co.uk/review/wearable-tech/toshiba-glass-hands-on-review-3593254/#top (Retrieved Jul 29, 2015)
↑ New technology concept attracts worldwide media attention. Smart Community Blog, Toshiba Corp. [online]. 2014, Nov 6. Available online at: http://www.toshiba-smartcommunity.com/en/blog/toshiba_glass (Retrieved Jul 29, 2015)
↑ NICCOLAI, James. Toshiba's smart glasses ditch Google's over-the-lens prism. PCWorld [online]. 2014, Oct 6. Available online at: http://www.pcworld.com/article/2692012/toshiba-shows-glasses-with-embedded-display.html (Retrieved Jul 29, 2015)
↑ EMRICH, Tom. Toshiba has its own smartglasses for the enterprise market. Mobile Syrup [online]. 2015, Jan 11. Available online at: http://mobilesyrup.com/2015/01/11/toshiba-has-its-own-smartglasses-for-the-enterprise-market/ (Retrieved Jul 29, 2015)