Evena Eyes-On
Jump to navigation
Jump to search
Evena Eyes-On are smartglasses for physicians and nurses. The device is equipped with several sensors that help the user to see the veins on a patient. The resulting image is overlaid in real time onto the built-in displays. This makes it easier for physicians to administer intravenous therapy.
The device has been chosen "Best Medical Technologies of 2015" by the Medgadget magazine.[7]
Main Characteristics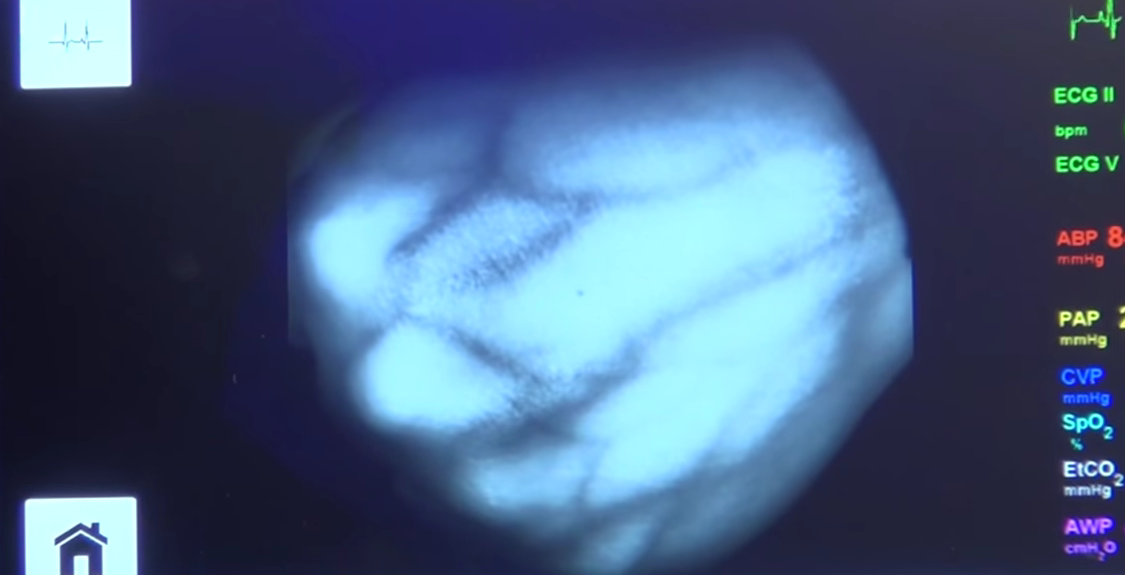 The device is built on top of Epson Moverio BT-100 wearable display and while Evena does not give any technical details but we can find this information at the Epson's product information page. The device is built around two LCoS projector-based 24-bit colour displays with combined resolution of 960 x 540 pixels and a horizontal field of view of 23 degrees. The device runs the Android operating system of unspecified version. Though the Epson product page lists the operating system as Android 2.1. The device features Wi-Fi, 3G, USB, and Bluetooth for connectivity, and can connect to other electric medical record systems. It also has two audio speakers.
The Evena additions include a set of specialized sensors: two multi-spectral imaging cameras paired with two multi-spectral lighting system for subcutaneous vein detection and localization. The image outputted by the cameras are overlaid in real time onto the display of the glasses. The user can then easily see the location of blood vessels on the patients and precisely conduct intravenous therapy. The device can be also connected to Evona's DeepVu ultrasound system for imaging deeper veins.
The control, and most likely the processing unit, are separate from the device and are connected to the displaying part via a cable. The same applies for the battery pack. The device is controlled via buttons or a trackpad present on the control unit. The battery is 700 mA.[8][9]
Purpose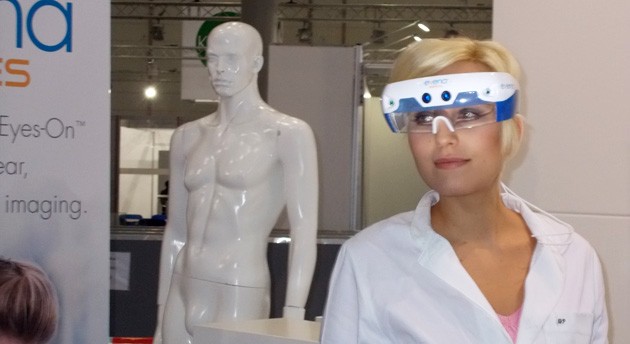 The device allows physicians to better locate blood vessels on a patient and precisely conduct intravenous therapy.
Company & People
The device is developed by an American medical equipment company Evena Medical. The company is based in Roseville, California and was founded in 2010.[10][11]
Frank Ball - Chief executive officer
David Gruebele - Chief financial office
Ignacio Cespedes - Chief operations officer
Mel Harris - Chief marketing officer
Important Dates
http://www.businesswire.com/news/home/20151115005075/en/Evena-Medical-Launches-Smart-Glasses-Clinicians-MEDICA
Enhancement/Therapy/Treatment
Enhancement - Evena Eyes-On enhances the ability to see blood vessels on a patient.
Ethical & Health Issues
Public & Media Impact and Presentation
As of July 2016, there are no hands-on reviews available. The popular technology magazine do give attention to the device but only mentions the same information that is available on the Evona official website.[12][13][14]
Public Policy
Related Technologies, Projects, or Scientific Research
References