Go Flow Pro
Jump to navigation
Jump to search
Go Flow is a small device that provides a certain form of brain stimulation, namely, transcranial direct-current stimulation (tDCS). The device was developed by the London-based company Transcranial Ltd., even though the similar title GoFlow was also used by one of the first tDCS devices that was produced by students at the University of Michigan and was never shipped.[5] The device consists of two electrodes, a Go Flow tDCS stimulator, two cables, a 9V battery, and a band or cap that holds the electrodes on the user's head. Go Flow Sports also includes an armband.[4]
There are two types of devices that sell under the name 'Go Flow Pro' and 'Go Flow Sports'. The former device was intended to be low-cost and reliable DIY (do-it-yourself) tDCS[1], even though in accordance with Wexler's terminology it could be more appropriately entitled a DTC (direct-to-consumers) device. It is not developed by its users but it is shipped to them.[5] The latter type of the device is a device that should enhance physical performance.[4]
Main Characteristics
Go Flow is a standalone and fully enclosed head-mounted tDCS device. The set includes the brain stimulator, two sponge electrodes, a band (respectively, a cap with armband), two cables and a 9 V battery.[4] The device is intended as a DIY tDCS device; thus, components could be bought separately.[2] In addition, sticky electrodes with hydrogel could be used with the device.[6]
The Go Flow brain stimulator is a small plastic box measuring 26 mm x 28 mm x 16 mm. It contains one button that controls the setup of each session. There are also orange and green LED lights that indicate the output of the device and the duration of the session. The output can vary from 0.5 mA to 2 mA, and the session duration can vary from 5 minutes to 35 minutes.[4]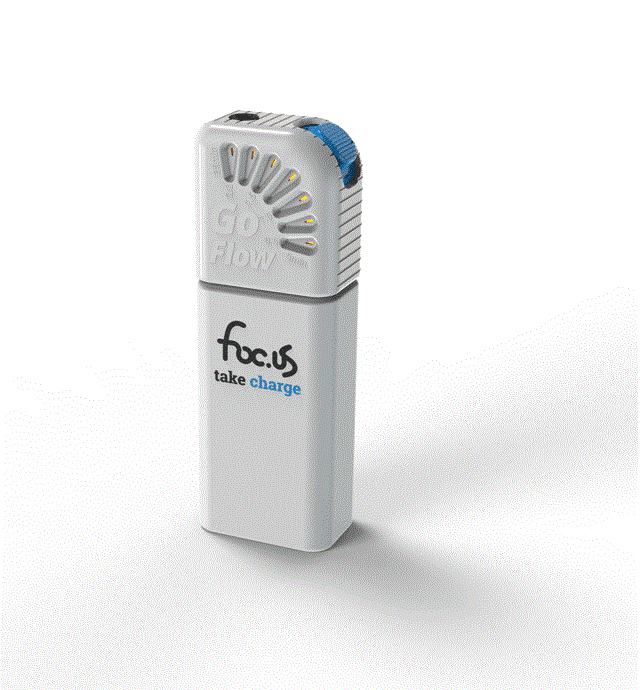 The device consists of two electrodes: X and Y. 'X' is a title for an anode and 'Y' for a cathode. Each electrode also has a cable. The original package contains sponge electrodes that have to be moistened by water or saline before the start of the session.[4] Users can also use hydrogel pads.[6] In that case, the skin under the electrodes has to be clean in order to avoid injuries.[7]
Go Flow Sports also includes the sport cap and armband that holds electrodes on the head or the arm of users. The cap contains holes open to certain regions of the scalp that ensure a more precise placement of electrodes. The various placements of electrodes with regards to the expected outcome of the session is described in the Go Flow Sports booklet.[4]
The session begins with the moistening of electrodes. Then the electrodes are fastened to the head by the cap or the band. In cases when users intend to put the cathode on their arm and they own Go Flow Sports, they can fasten it by the armband. The cables are adjusted by magnets to the electrodes. Finally, cables are connected to the brain stimulator and the setting of the session is designed by the button. The manual for Go Flow Sports suggests four possible settings for the session: training longer, training harder, learning new skills and getting into the zone. There should be a 48 hour gap between each session, according to the manual.[4]
The title GoFlow was originally used for the device, which was developed as a prototype in 2012 by two students at the University of Michigan named Matt Sornson and Nick Woodhams.[5] Later, they supported the device that was developed by Foc.us.[8] In 2016, Foc.us developed a device that would be reliable and considerably cheap. They entitled it 'Go Flow' as the allusion of the previously mentioned project.[1]
Purpose
The main purpose of the device is to enhance the skills of its users through affordable and reliable tDCS devices. The specific ability that is enhanced depends on the placement of electrodes. Go Flow Sports focusses on the enhancement of motor skills.
Company & People
Go Flow is shipped by Transcranial Ltd., which is based in London, UK. The company is also referred as 'Foc.us'. It was founded by two engineers. They claim, however, that they cooperate with neuroscientist.[9]
Michael Oxley: Co-founder and CEO of Foc.us
Martin Skinner: Co-founder of Foc.us[9]
Important Dates
November 2015: Foc.us decided to build an accurate, reliable, and affordable tDCS device
January 2016: Focus Go Flow device was unveiled[1]
September 2016: Foc.us introduced Go Flow Sports[10]
October 2016: Go Flow Sports began shipping[11]
Enhancement/Therapy/Treatment
There is no indication of a precise purpose for Go Flow Pro, but the claim that Foc.us provides on their websites about DIY tDCS devices might hold. Namely, they argue that tDCS could enhance endurance, focus, and working memory. These enhancements are based on neuroplasticity.[12]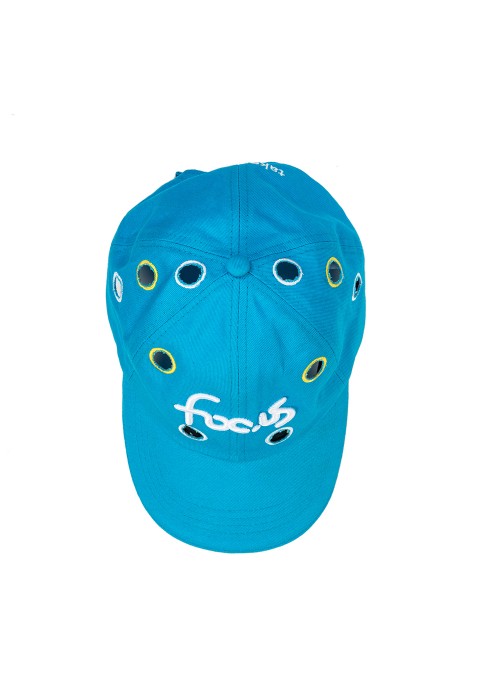 Go Flow Sports is intended as a device which enhance physical skills. The accompanying booklet describes several placements of electrodes that could enhance certain abilities.[4] The enhancement is described in more detail in Foc.us blog posts.[13][14][15] First, there is a treatment that should enhance implicit motor learning. The electrodes are placed at F3 (high on the left forehead) for cathode and at Fp2 (just above the right eye on the forehead) for anode.[16] This placement could be used by right-handers as well as left-handers. The session takes 15 minutes and the recommended current is 1.5 mA.[13] The design of the session and the output was suggested by research conducted by the University of Hong Kong. The different tDCS devices were used in the research.[17]
Second, the session could also be focussed on the length of training. In this case, the electrodes are placed on the left temple at T3 (anode) and the contralateral shoulder (cathode). The session should take 20 minutes, and the current should be 2 mA.[15] The design of the session is also based on a study.[18] Third, researchers claim that tDCS could help athletes train harder. This session takes 20 minutes with a 2mA output and electrodes placed on F3 (anode) and the contralateral shoulder (cathode). This setting is also inspired by research that was conducted previously.[19]
Although there are several studies that claim that tDCS improves the mental or motor skills of its users, there are also studies that question the efficacy of tDCS.[20]
Go Flow is not a medical device, and developers are quite cautious not to put any misleading claims on Go Flow's webpage. They argue:
tDCS can help increase your focus, working memory and endurance. These are the only benefits we recommend using tDCS for. If you have a medical condition you are hoping to treat you should not consider foc.us. If you have any medical questions we cannot help you, sorry.[12]
Consequently, the device is not regulated by the FDA. There is, however, Foc.us' motto 'take charge', which could be considered as a kind of medical claim.[5]
Ethical & Health Issues
There are several ethical and health issues that are linked to tDCS in general, and for both DIY tDCS and Go Flow.
In general, various problematic features of tDCS have been identified. First, there are still several issues linked with tDCS that remain as unknown long-term effects of tDCS. Second, the tDCS session is influenced by many factors such as gender, hormones, or handedness.[21] Third, the enhancement of a certain skill could be accompanied by the impairment of other skills.[22]
Beside these, there are also issues linked with DIY tDCS devices. The placement of electrodes is crucial for the output of the session, but the instructions that accompany tDCS devices tend to be insufficient.[21] There are several health and placement's information in Go Flow's booklet but they are by no means all-encompassing.[4] Further information is contained on the Foc.us blog; however, they claimed here that this information is based on third-party studies.[13][15] Several people who are involved in DIY tDCS are acquainted with the research,[23] but since the device is publicly available there is no guarantee that the consumer is sufficiently informed. However, among other DIY tDCS developers, Foc.us still provides a certain amount of information about the use of their device.
Similarly to Halo Sport, Go Flow Sports could be considered doping. However, tDCS devices have not been regulated neither by WADA (the World Anti-Doping Agency) nor by the International Olympic Committee as of yet. The involved organisations collect information about the technology of the moment.[24]
Another controversial aspect could be that authors use papers to support of their claims that were published in the journal Frontiers in Human Neuroscience.[19] The publisher house is in Beall's List of Publishers.[25][26]
Regarding radiation, Go Flow follows part 15 of the FCC rules. These rules focus on radiation exposure limits set forth for an uncontrolled environment.[4]
The manufacturers identify in the booklet several conditions that are contraindicated for the use of their device. Go Flow should not be used by people under the age of 18. People with epilepsy, seizures, brain lesions, bipolar depression, or severe heart disease should also avoid this device. The skin under the electrodes must not be damaged before use.[4]
The use of tDCS devices could be accompanied by certain side effects. Users could suffer skin burns, dizziness, or headaches.[12] There were reported injuries caused by sticky electrodes that were used in certain types of Go Flow devices:
Recently, we've seen an increased interest in using tDCS devices with sticky electrodes (primarily because this is one of the default configurations of the foc.us GoFlow device which launched recently). Coincident with this, we've seen an increase in reports of injuries from sticky electrodes.[7]
The skin could be also burned if the sponge electrodes are not wet enough.[4]
Public & Media Impact and Presentation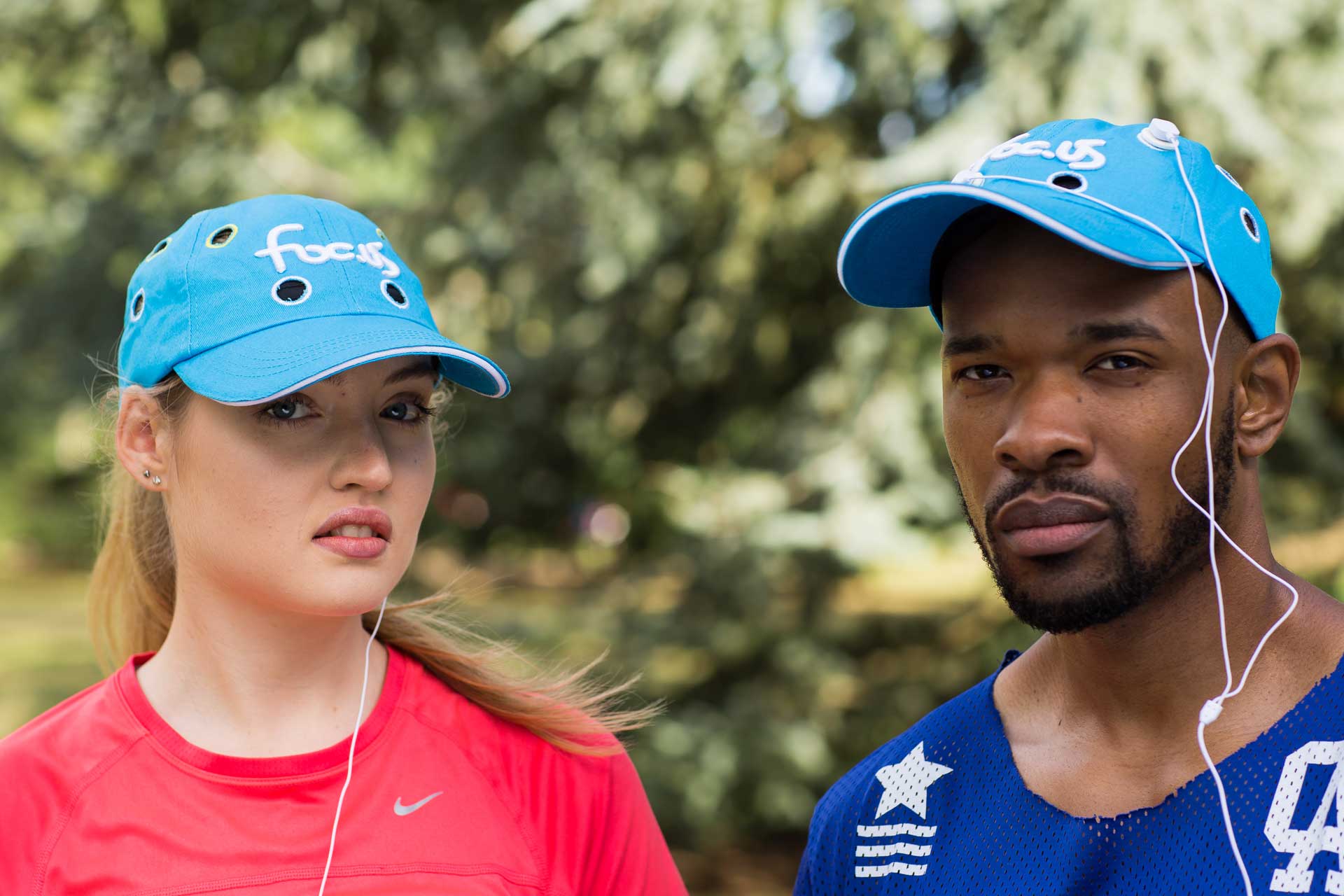 In general, Go Flow is appreciated by users. Brent Williams, who owns a blog Speak Wisdom, claims: 'The foc.us Go Flow is a great tDCS device – providing great capability at a very low price.'[27] The user 'Nigel' at 'Caputron tDCS Devices and tDCS Accessories' clams: 'If you are looking for a portable and powerful tDCS device look no further. This can easily fit anywhere and provides excellent features such as a timer and ramp up/down.'[28] In addition, among the manufactures producing tDCS devices, Foc.us provides a certain amount of information that is also approved by its users[29] even though some of them claim that information provided by Foc.us is not sufficient.[30]
Debaters of 'DIY tDCS' argue that Foc.us has to be extremely careful in their claim, in order to avoid FDA concerns. 'james katt' wrote: 'Focus obviously cannot state anything regarding medical conditions. That would bring the wrath of the FDA on them, causing them to be banned from the market.'[31] 'John' added: 'Agreed. Focus have been careful all along. As Anna Wexler points out in our interview, it's a very wriggly line and in a state of flux at the FDA'.[32]
There were several complaints concerning the customer service of Foc.us. The user entitled 'johnsown' on Reddit claims:
Foc.us. is the worst company I have ever had anything to do with. My foc.us. bricked after about three months. Contacted customer service. Got no reply at all. Contacted Michael's? email. No response. Out 200 dollars. You might notice that I have had positive things to say about them previously, because I liked the product, but it's not much use as a paperweight. Absolutely no customer service as another poster said.[33]
The user 'raiden3600' had a similar experience, even though, in his case e-mailing the Foc.us CEO was successful:
When I emailed through their normal customer service address, I only got an automated response. I ended up emailing the more urgent email mike@foc.us and got a response back within 2 days. He was asking me what went wrong and to show him the results of what happened. I would try emailing that address and see how things go.[34]
Public Policy
The device is not regulated by FDA. The manufactures claim that it is not a medical device.[12]
Go Flow complies with FCC rules concerning radiation.[4]
Related Technologies, Projects, or Scientific Research
The development of Go Flow was based on research concerning tDCS. However, the manufactures are engineers and not neuroscientists.[9] They have not reported any independent research as of yet.
Since the Go Flow was shipped recently, it has not been widely discussed in ethical papers yet. Nonetheless, the issues mentioned in previously published papers still apply to it.[5][21]
References