Google Now
Jump to navigation
Jump to search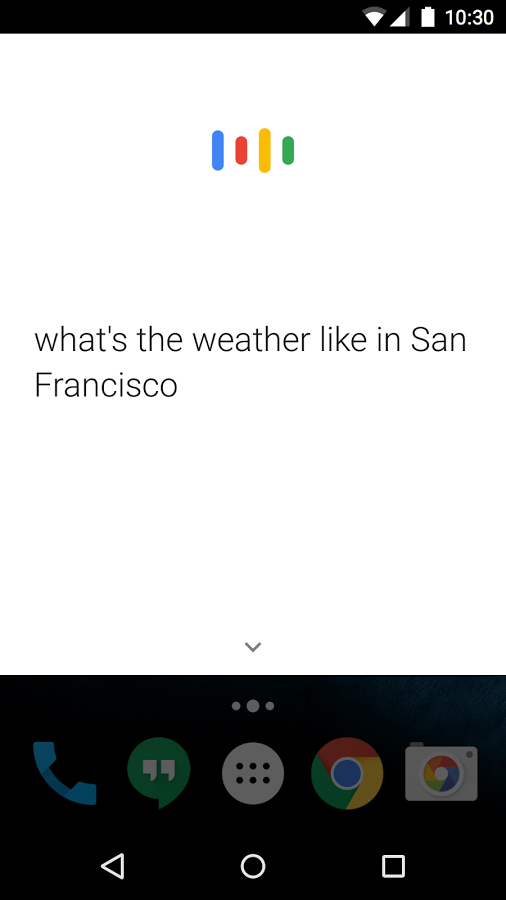 Google Now[3] is an intelligent personal assistant developed by Google Inc. It is available for devices using Android or iOS operating systems. It allows the user to vocally query the Google Search engine and it learns from the user's habits and so can pro-actively deliver desired information. For this, it utilizes the algorithms behind Google Search and Google Knowledge Graph.[4][5]
It was originally released for Android 4.1 in 9 July 2012.[2] The Popular Science magazine awarded Google Now with the Innovation of The Year 2012 award in November 2012.[6]
Main Characteristics
Google Now is a intelligent 'do-engine' powered by Google search and Google Knowledge Graph. It is able to understand natural speech in several languages, parse the query, and send it to be processed by Google's servers and then return the desired results. It can also be used to control the device it runs on, e.g. scheduling, emails, writing, search, and it is able to offer relevant and personalized information based on the data about the user, location, device, and other contextual information.[7][8][9]
With the Android 6.0 update[10] Google added the "Google Now On Tap"[11] feature that allows the user to invoke Google Now from anywhere on their device. Google Now will offer information based on the opened app and the context the user is in.[12][13]
Historical overview
In the late 2011, the website AndroidAndMe released a news piece that Google is rumoured to be working on a 'Star Trek-like' personal assistant for Android that was codenamed Project Majel.[1] This application was meant to expand the possibilities of Google Voice Actions[14] with natural language recognition and virtual assistant abilities. Google thus tried to respond to Apple Siri that was released in 2010.[15]
The name Majel is based on the actress Majel Barret who starred in the Star Trek franchise. Following is an excerpt from the Q&A session with Android managers at the Android 4.0 conference in Hong Kong in October 2011:
Well, we don't like to set ourselves in a head-to-head kind of way, you know, Apple makes terrific products, I think Siri is great; I think it's really hard in the long run to follow strategy of making kind of an artificial personality. You know, it can be really funny at first, but that uncanny value of just, uh, having a personality that you start to interact with, um, as you would a person, with all the contextual ambiguity you would with a real person - that's a really challenging approach, and they're going for it, that's great. Out approach is different. The metaphor I like to take is - if it's Star Wars, you have these robot personalities like C-3PO who runs around and he tries to do stuff for you, messes up and makes jokes, he's kind of a comic relief guy. Our approach is more like Star Trek, right, starship Enterprise; every piece of computing surface, everything is voice-aware. It's not that there's a personality, it doesn't have a name, it's just "Computer." And you can talk to it and you can touch it, you can interact with it at the same time as you talk with it. It's just another way to interface with the computer. - Matías Duarte, Google's vice president of design. Excerpt taken from CHRIS, Burns. Complete Ice Cream Sandwich Launch Q and A with Android Authorities. 29 October 2011, SlashGear. [16]
Google acquired several companies supposedly for their usefulness for Project Majel. This was, for example, the restaurant recommendation app Alfred in 2011[17] or speech synthesis company Phonetic Arts in 2010.[18][19].
Google Now was officially released together with the Android 4.1 Jelly Bean update on 27 June 2012.[20][21] Google Now was also released for iOS in April 2013.[22] As of March 2014, Google Now can be enabled in Google Chrome web browsers on desktop.[23]
Purpose
Google Now is a personal intelligent assistant that can assist the user in information retrieval, task tracking, voice search, translation, news and other queries that would otherwise take more time to search by text.[3]
Company & People
There is no information about people behind the Google Now project available publicly.
In 2012, some time before the release of Google Now on Google I/O, several members of the original Google Now team left the company. It was rumoured that they were dissatisfied with the new CEO Sundar Pichai.[24]
Important Dates
Enhancement/Therapy/Treatment
Enhancement - intelligent assistants like Google Now can help the user to search for information and carry out several tasks such as day planning, messaging, entertainment, and information retrieval.
Ethical & Health Issues
creepy? https://www.koozai.com/blog/news/industry-news/what-is-google-now-2/
Public & Media Impact and Presentation
Popular Science magazine included Google Now among the innovations of the year 2015.[25]
Public Policy
Related Technologies, Projects, or Scientific Research
References